If you enjoyed this review make sure to check out our weekly actual play podcast where Jason and the team are playing the Starfinder Dead Sun's adventure path, as well as our Pathfinder Adventure: The Fall of Plaguestone Actual Play Podcast.
It's been over two years since the launch of the Starfinder game system. In that time, Paizo has released a lot of supplemental material – three bestiaries, a world lore book, a loot compendium – but the one thing we haven't gotten yet are new character classes.
Well, get ready, because the Starfinder Character Operations Manual is here, and it's bringing three brand new character classes with it. To be fair, that's not ALL it's bringing, but by general importance and page count, the new classes do tend to hog the spotlight. Also, since the classes also had a formal playtest, it's the part of the book players may also have some existing familiarity with. So… we'll get to the other stuff, but classes are where we start.
At first glance, there's going to be a tendency to view these new classes through a Pathfinder lens and say we got an alchemist, a paladin, and a sorcerer. And look, that's a convenient shorthand, especially when talking to people who have played both systems, and the similarities are there. But that also does these classes a disservice because if there's some common DNA in there, the folks at Paizo have done a lot to make sure these new classes definitely have a sci-fi feel that's different than their swords-and-sorcery counterparts.
First, there's the biohacker. If mechanics make the world safer through building things, biohackers make the world safer by injecting people with weird chemicals. The class has the spirit, if not the exact functionality, of the alchemist from Pathfinder – you have the ability to craft chemical compounds on the fly that you can inject into a friend (boosters) or foe (inhibitors). The bad news is that like spells, there's a daily limit for how big a batch of raw ingredients you can brew up each day; the good news is you don't have to choose your toys in advance, you can whip up what you need in the heat of the moment. There are both general-purpose buffs and debuffs, but a biohacker also gets access to "fields of study" at 1st, 7th, and 13th level that come with more specialized effects. There are also "theorems": more general class abilities, such as the ability to do limited healing, a poison skin that sickens enemies that hit you, and so on.
If there's a caveat to this class, it's that the inhibitors, at least, are pretty dependent on being good at combat in general. If you miss with a ranged attack, you waste the biohack that you had equipped, and if you don't do enough damage to overcome any resistances, the biohack fails as well (assume it didn't break the skin or something). If a melee attack misses, you still have the biohack for your next attack, but I'm not sure how much of a front-line melee class this is supposed to be. Boosters don't suffer the same problem because there are mechanisms to hit your allies without even having to perform an attack roll.
Here's the one thing that concerns me. I love the idea of the biohacker. I love the general concept of a guy who runs around and shoots weird chemicals and nanites into friend and foe alike. It's definitely got a sci-fi feel – arguably it fits a sci-fi setting better than the alchemist fits in Pathfinder. Now here comes the "BUT". It's a low-offense support character, and while it's got great lore and storytelling possibilities I'm not sure I see the "hook" on the gameplay side. Envoys have low offense but you're a master of social situations. Mechanics have low offense, but you have a drone to play around with. (Or an exocortex… if you missed the point of the whole class.) Biohacker? I'm not sure what the gameplay "thing" is that makes you want to roll one. "Nice robotic sidekick, Mr. Mechanic. You think that's cool? I can… (checks character sheet) cure the dazzled condition (stares at the camera like Jim Halpert in The Office)."
The next class is the vanguard. At first glance, it feels like Starfinder's attempt to create a true defensive "tank" class, but it's a little more complicated than that. It's definitely a melee class – a vanguard gets access to both heavy armor and shields; one of its key powers, the Entropic Strike, only operates at melee range; and a lot of the defensive abilities assume you're upfront taking hits for your team. Many of the class powers operate on "Entropy Points" which are generated largely by giving or RECEIVING damage, so while yes, there are damage mitigation and damage avoidance abilities in the vanguard toolkit, there are times when it will be strategically advantageous to actually take some damage to power your abilities. So this is NOT an "in the rear with the gear class". I mean, the name "vanguard" gives it away.
It does seem like a class that's going to require some subtlety to really get the most out of. Yes, one can go the easy route and play it for full offense, just storing up points and then releasing Entropic Strike "lather-rinse-repeat" style. At that point, it starts to feel like a Solarian that's trying to compromise between the armor and weapon builds at the same time. But the total toolkit does allow for some pretty versatile stuff – you can pump Entropy Points into your movement, use them to reduce the damage, take damage intended for an ally… all sorts of things. I particularly like "Dampen" which lets you spend an entropy point to halve the damage of an area effect if you're in the blast radius – a one-man grenade disposal unit. It also has "aspects" which teach you bonus combat maneuvers and let you get entropy points from additional sources such as receiving healing or doing damage to multiple foes. My general vibe from this is "easy to learn, hard to master" but definitely something new and unique to the Starfinder setting.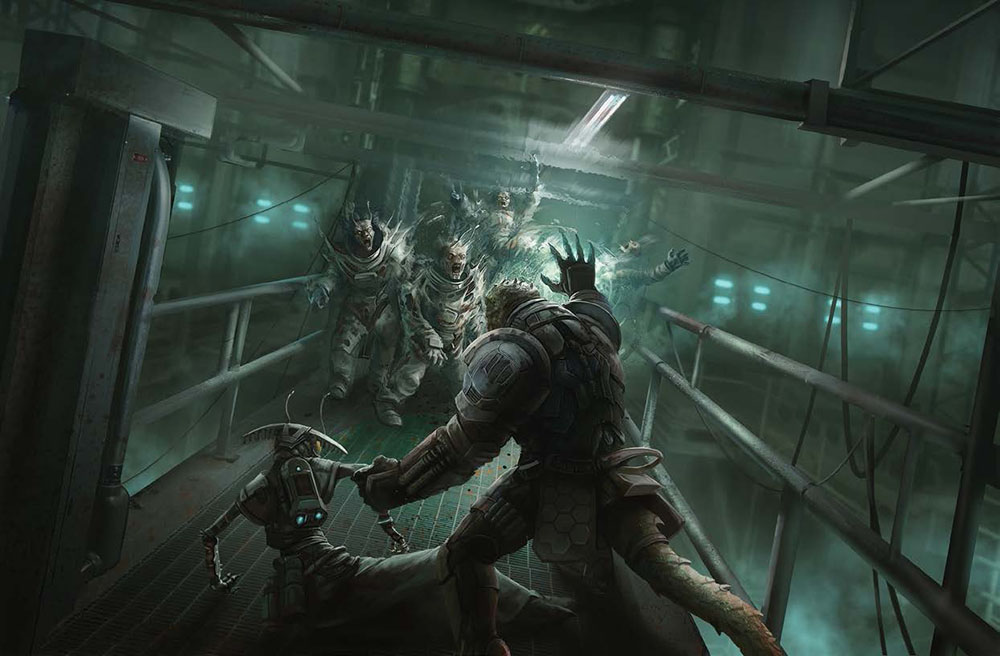 The last of the three classes is the witchwarper. I have to admit I'm rather fond of this one – at first it comes across as kind of randomly thrown together until you realize that's the point: it has a flavor, and the flavor is harnessing chaos.
At a nuts and bolts level, if you're looking for a Pathfinder analogy to frame the discussion, the witchwarper is to the technomancer what the sorcerer is to the wizard: the spontaneous caster vs. the book-smart one. Compared to the technomancer, a witchwarper gets fewer total spells, but they don't have to prepare them beforehand and can cast anything in their arsenal at any time. However, there is more to it than that, which comes with the "warper" part of the name. The witchwarper has the ability to tweak reality itself to create unexpected effects.
There are generally two main mechanisms for this. First, all witchwarpers have the "Infinite Worlds" ability where they can drop a spell slot of a given level to create a bubble of an alternative universe; mechanically, either an environmental or an instant effect for that level (or multiple effects, if they use a higher-level spell to do lower-level effects). For example, dropping a level 1 spell can be used to either create a patch of difficult terrain (environmental) or a flash of light (instant) that can inflict the dazzled condition (or even blinded on a critical failure).
The other main mechanism is through class abilities called "paradigm shifts". The bad news is these tend to either be limited use or cost a resolve point to use; the good news is you can get some pretty powerful effects from them. The general themes tend to be movement (speed enhancement, teleports, etc.), inflicting or removing mind-altering effects, or messing around with damage types (increasing or decreasing resistances, or even changing the damage type of an attack – "surprise, your acid attack is now fire, which I am immune to… sucks to be you"). I think my personal favorite is Substitute Mind, which lets you free an ally of mind-altering effects by (essentially) copying part of their mind from an alternate reality where they weren't affected.
So those are the new classes, and I recognize that some portion of you will stop reading here. BUT WAIT, THERE'S MORE.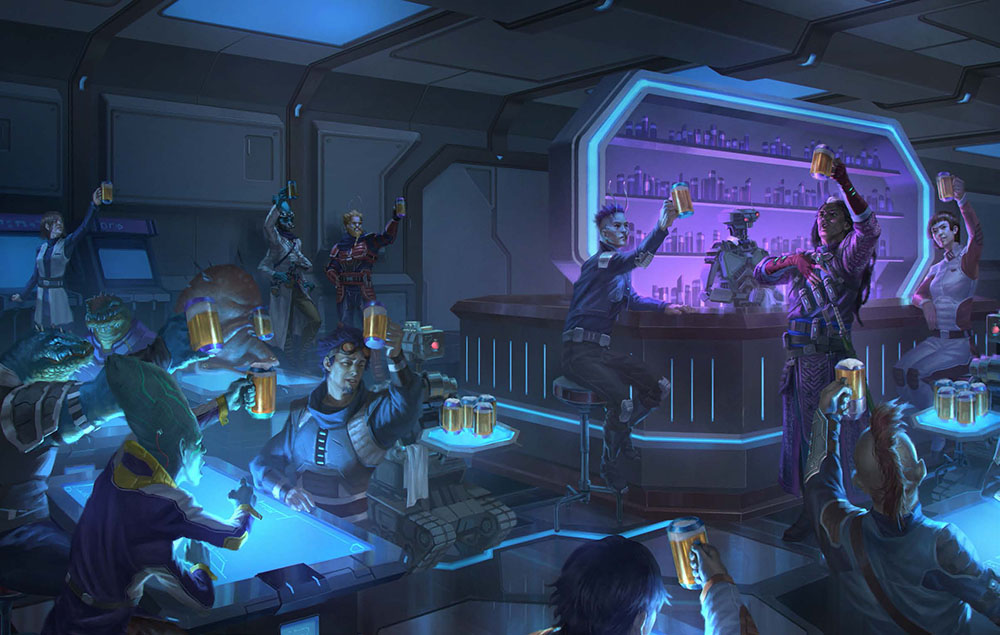 Going back to a more "order of the book" view, the book starts with new themes (can we go back and retroactively give Rusty the "Grifter" theme?) and racial abilities. Most of the core Starfinder races now have a few alternate stat setups (vesk that get a bonus to Dexterity from extended time acclimating to low gravity, "mind forward" lashunta who give up Constitution to improve their Intelligence) and there is now a selection of race-based feats to take. The surprise here is that in addition to the Starfinder core races, the Pathfinder core races (elves, dwarves, etc.) get semi-equal billing in a way they hadn't before. In the Core Rulebook, they were kind of buried in the back in a section about converting Pathfinder characters, right before the glossary. They still don't get a LOT of real estate compared to Starfinder races, but at least they're invited to the party. Start rolling that halfling solarian, I guess!
After we hop over the new classes, the book presents some additional options for the existing Core Rulebook classes. I'm not going to be exhaustive, but there were a few that jumped out at me. First, there was a new "Advanced Prototype" mechanic build that lets the mechanic use a weapon or armor as the vehicle for his upgrades (the idea that instead of developing a drone or exocortex, he or she just builds a BFG). Solarians get a little more versatile with options for a ranged weapon or shield as their solar manifestation instead of just weapon or armor; also, higher-level solarians can give up one of their zenith powers to be able to have a second manifestation. Also, I'm not as familiar with the soldier, but it looked like the soldier had an unarmed combat build, almost like a monk.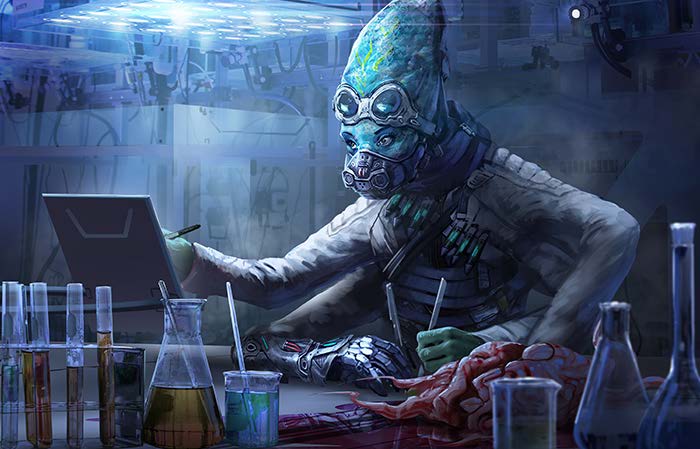 Next up, we have archetypes, of which there are ten. These represent ways to add a little bit of flavor to your character without a fundamental overhaul, as well as a way to add some roleplay feel. One thing I noticed is that in Pathfinder they tend to be formal well-defined organizations, while in Starfinder they tend to be more generic roles like "medic" or "instructor": that's neither good nor bad, just an observation. The level of definition also varies a little bit – something like the Esotericist (casters who reject technology and seek out the purer roots of magic) is a fairly well-defined set of modifications for caster classes, whereas the Free Trader is "well, you get some bonuses to skill checks when it comes to buying and selling things". I think my personal favorite is the Fixer archetype, which gives you class skills such as cleaning a crime scene of evidence and maintaining a network of contacts in the criminal underworld. Just in case you want to be the Pact Worlds version of Winston Wolfe.
I'm going to gloss over a few sections because they're fairly "list-y" and I'm not sure what people would find interesting, but I'll mention their existence. New general feats. Cool. New gear, but a lot of it seems oriented toward injection weapons and shields, to create some biohacker and vanguard loot drops. And spell lists; again, most of the chapter features the new witchwarper spells, though there are also some new mystic and technomancer spells as well.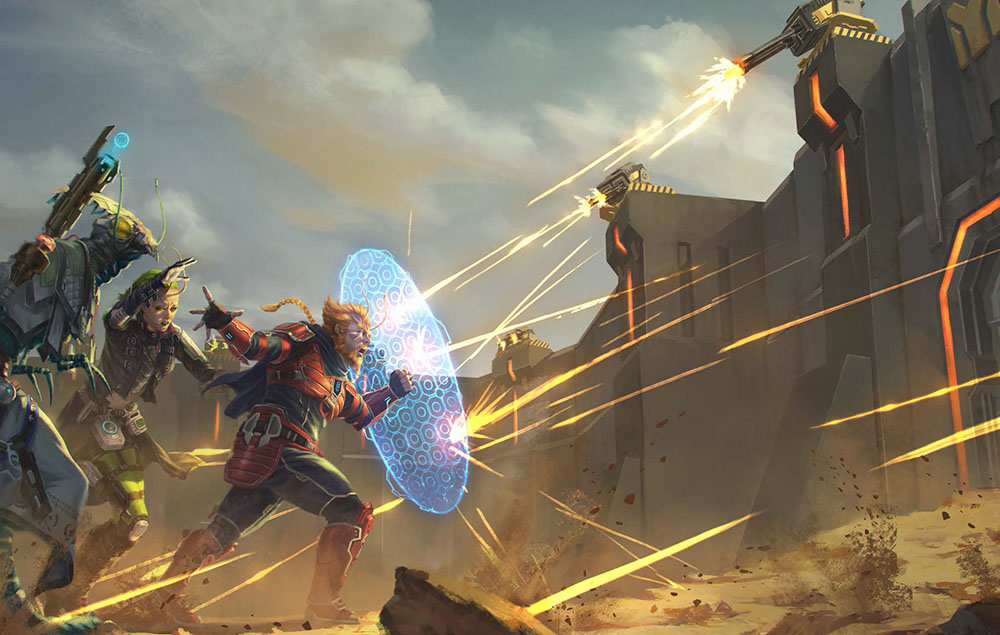 The part I wanted to get to is the "New Rules" section because there's a couple of potentially interesting things here.
The first is that they seem to have heard some of the frustrations with starship combat and tried to create a few more ways for players to participate. Primarily, this was through the creation of two new roles, though they've also added "open actions", which we'll come back to. The first of the new roles is the Chief Mate – think of this is a dedicated generalist that can give bonuses to any other station. So, they can help coax more speed out of the engines to get more speed or help the science officer execute scans to get more information, or they can poke around in an access panel to enhance an engineer's attempt to divert power to a system. Interestingly, the chief mate's checks run on Acrobatics or Athletics, which gives a more combat-oriented/low-skill character something to do.
The other role is the Magic Officer, which I like because of the open-ended possibilities. A Magic Officer can do things like performing the Science Officer's scan activity with magic instead of computers, obscure the enemy's targeting computers to increase your armor class, add magical damage to weapons, fold space to decrease the turning radius of the ship, and things like that. The Magic Officer abilities run off Mysticism. In addition to liking the flavor of the Magic Officer, I think it's a smart thing that they've given a role to characters and skills that didn't really fit into the existing Pilot/Captain/Sci-Eng/Gunner framework.
They've also added "open actions" which feel like responses to the problem of either having too many people in the party, or circumstance-based inactivity (the battle changed in such a way that manning my current station is unproductive, leaving me nothing meaningful to do). Open actions require a single skill rank to perform and don't require being at a particular station, but they also have pretty limited benefits – for example, you can perform "Range Finding" which gives a +1 to a single attack roll. They tend to be summarized as "not very exciting, but better than sitting around doing nothing". They also added a few additional "minor" crew actions, which already existed in the Core Rulebook and solve the opposite problem of too few people to man all the stations.
I'll say this. I don't know if these are the right specific changes, I but I respect that they're listening to the player base on this. One of the persistent complaints about starship combat is that a) all roles aren't created equal, and b) some character builds get left behind with not much to do. This feels like it TRIES to address that, which I'll give them credit for.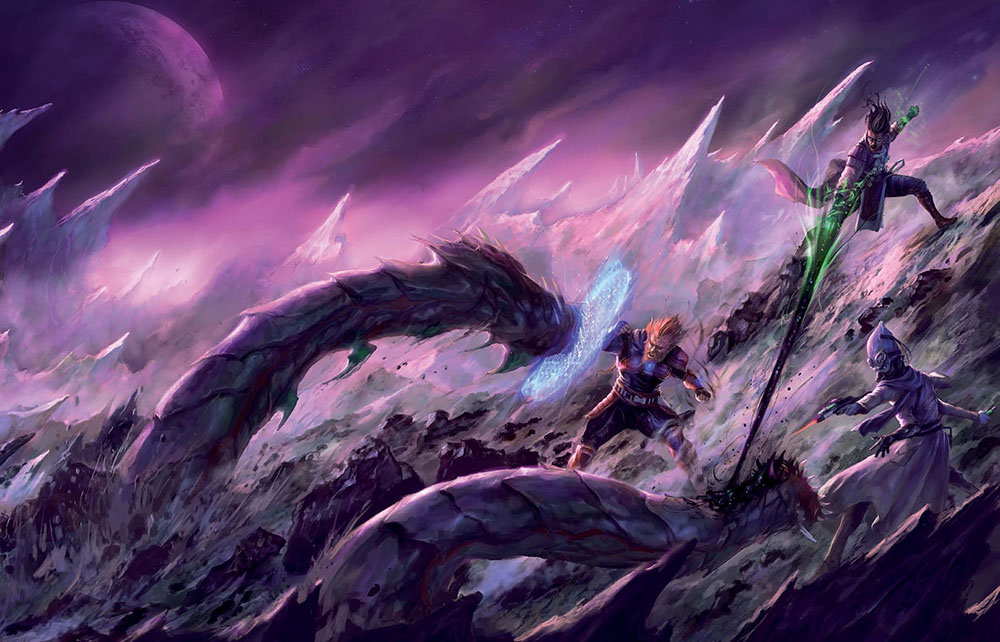 The final section of the Character Operation Manual provides some fleshed-out rules for downtime activities. We've all had games where the party gets a couple of days off, and sometimes it's unclear what people should be doing. Or even if they do have an idea what to do, there aren't really any rules for how to do it. Well… now there are. Some of the activities are very rubber-meets-the-road, such as Convalesce: if you do LITERALLY nothing for 24 hours, you regain 2 hit points per level (and reduce two points of ability score damage). Others are more situational and esoteric, such as Work Out, which (if successful) lets you bank a free re-roll on a failed Athletics or Acrobatics for up to a week. It's not earth-shattering stuff, but it's nice to have both some suggestions for things to do, and some mechanisms for actually doing them.
So that's the Starfinder Character Operations Manual in a nutshell. Ultimately, it's going to sink or swim based on the new character classes, and I'm pretty pleased with what we got. I love the witchwarper and I'm probably rolling one as my next character (though at least one other member of our group feels the same way, so it may be pistols at dawn for the honor of doing so). The vanguard seems like a cool and unique and interesting concept, but I'm a little worried about the learning curve. The biohacker is the only one that leaves me a little less enthused – I love the lore and the general idea of a space alchemist; I'm still stuck on finding the hook that makes me want to roll one. (If you're wanting to play one, don't let me stop you.) The rest of the content isn't earth-shattering, but it's what you'd expect from a player-oriented volume, and the starship combat in particular shows they've been listening to the player base. If you're playing Starfinder, this one's a keeper, so off to the local gaming store with you. Or maybe just the Internet; that works too.