Make sure to read Jason's review of the Pathfinder Second Edition Core Rulebook, as well as his review of the Pathfinder Advanced Player's Guide, Pathfinder Lost Omens: Legends, Pathfinder World Guide, Character Guide, Gods & Magic, Gamemastery Guide, and Bestiary 2.
If you enjoyed this review make sure to check out our Pathfinder Adventure Path: Agents of Edgewatch Podcast and our Pathfinder Adventure Path: Three Ring Adventure.
Reviewing the Pathfinder Bestiary 3 is a surprisingly challenging task because it's like a trip to the zoo. You never know which animals people are going to find interesting. You can arm yourself with all sorts of interesting facts about giraffes and anteaters and then your nephew wants to do nothing but stare at the meerkats all day because they're "cute". And then when you insist on moving on, he starts crying and then you have to buy him Dippin' Dots to restore the peace, and that's like… six bucks for half a scoop of ice cream when you take all the air out. Complete ripoff if you ask me. And it's not like otters and red pandas aren't ALSO cute, so would you just trust me on this?…
Sorry… what was I talking about?
Oh right. Pathfinder's Bestiary 3.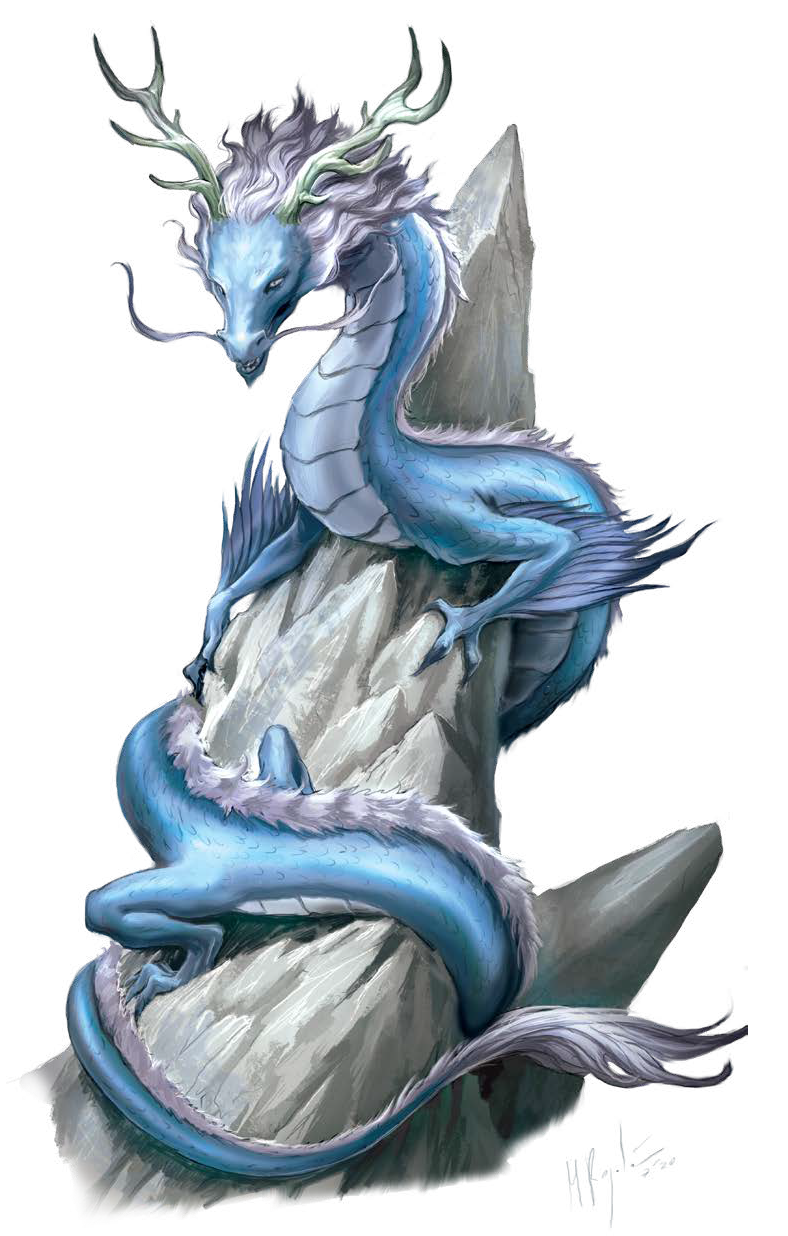 In a previous review, I likened the flow of the Bestiary books to choosing classes in college. Bestiary 1 was the equivalent of freshman year, where everyone's job is to knock out as many required classes as possible. In game system terms, it contained the creatures you really HAD to have in a roleplaying game system rooted in Tolkien and/or Gygax. You're getting a centaur because your father had a centaur, and his father before him. Bestiary 2 was junior year… a nice mix of shoring up your required material, but a little bit of leeway around the edges. Your advisor said you need a few more elementals to graduate, but if you want to sneak in that clockwork soldier that looks like a refugee from a Final Fantasy game, we can fit it in. Bestiary 3 firmly plants us in senior year now, kids. MAYBE we have one or two required classes we forgot to pick up along the way, but at this point, it's mostly about what's fun and what lets us sleep in the latest. And no class on Fridays. In monster terms… it's time to let the freak flag fly.
On a stylistic level, Bestiary 3 follows the blueprint laid down by its predecessors. Almost all of the entries are self-contained within a single page; the exception tends to be the entries for "families" of creatures (giants, nymphs, etc.) where they'll give the family a certain number of pages but the page breaks might not line up evenly with the individual creatures. As before, additional information is presented in sidebars on each page: sometimes it's general world-building, sometimes there's an explanation on how to run the creature in battle or information on the treasure a creature may have in its lair. As always, almost every creature gets individual artwork, and it's beautiful stuff. (Well the artwork is beautifully executed… let's be honest that some of the creatures themselves are kinda horrific to look at.)
One of the first things I do when looking at a book like this is look for themes. Now, there's always going to be a desire to spread things around and offer variety – that each book contains monsters of different levels, and of different types. But within that, you can usually pick up one or two areas that got a little extra attention.
I sense at least three themes, two of which are at complete opposite ends of the spectrum.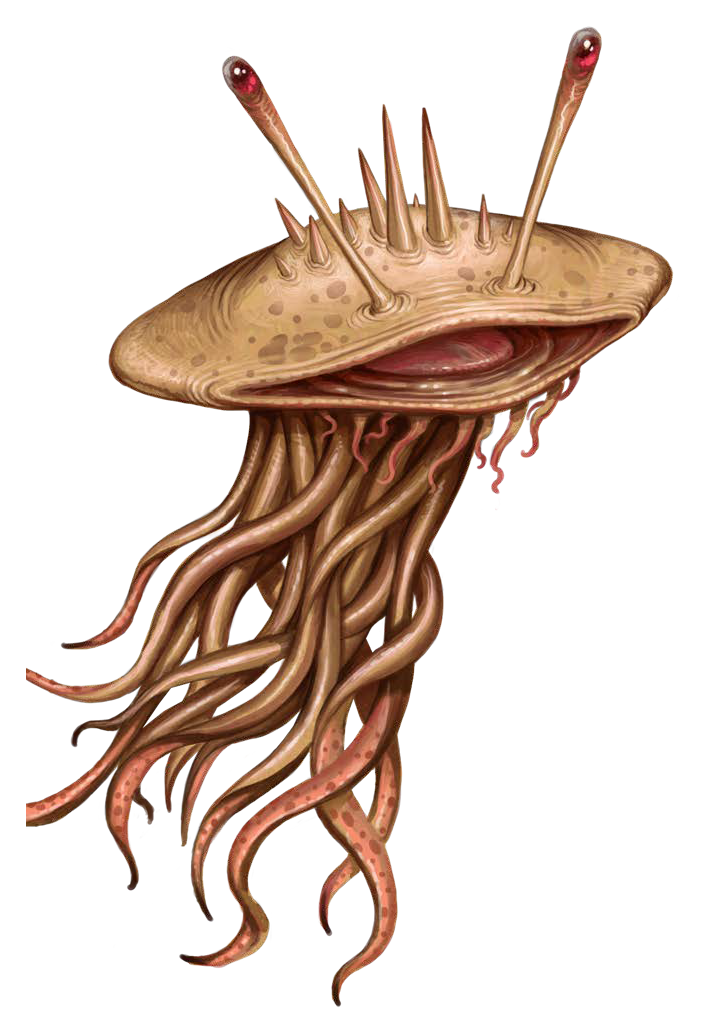 The first is giving some love to the Tian Xia region. There's a LOT of material in this book that's either EXPLICITLY tied to the Tian Xia region, or at least bears east Asian influences and flavor in its design. All of the dragons are explicitly of Tian Xia, as is a multi-page entry on kami, divine nature spirits that guard places of importance. But you also see it in something like the terra-cotta warrior – not explicitly defined as being of Tian Xia (by definition, it's "just" a stone soldier), but certainly bears the influences design-wise. Or the locathah… a humanoid that bears the visual stylings of a lionfish, which are indigenous to the Indo-Pacific in real life.
At the other end of the spectrum, we have mundane creatures. You've got moose and squirrels ("hey Rocky, watch me pull a rabbit out of my hat!"), multiple pages of crabs… camels, for goodness' sake. I think this gets more into how Paizo views their books – they consider Bestiary 3 to be the end of the "core" rulebooks, so it feels like they're tying up loose ends. You can also see this thinking in sections that flesh out a few more hags, giants, and titans.
If there's a third theme to be found, I noticed there's some synergy with the material contained in the Lost Omens Ancestry Guide. A lot of the ancestries and heritages that were added in the Ancestry Guide are also given "monster" treatment in Bestiary 3. That doesn't feel like a coincidence and it makes a certain sense – if you're going to add a bunch of new "good guy" options, you probably want GMs to have the option to have "bad guy" versions of them as well.
There is also one new-to-Second-Edition game mechanic introduced in Bestiary 3 (as far as I can tell, unless it was introduced in an adventure path or something) – troop creatures. This existed in First Edition (Bestiary 6) and is finally making its appearance in Second Edition. There are certain "creatures" that are actually a group of weaker creatures: you can almost think of them as a swarm of humanoids. So instead of keeping track of hit points and attacks for 20 or 30 individual creatures (as well as having a round of combat take 8 years), the troop takes up a certain number of squares (starts at 16), has ONE set of hit points and one set of abilities for the troop. As the troop is damaged, it breaks up and takes fewer squares and its abilities decrease, and "killing" the troop causes its remaining members to disperse. And like regular swarms, most troop creatures are more vulnerable to splash and area damage.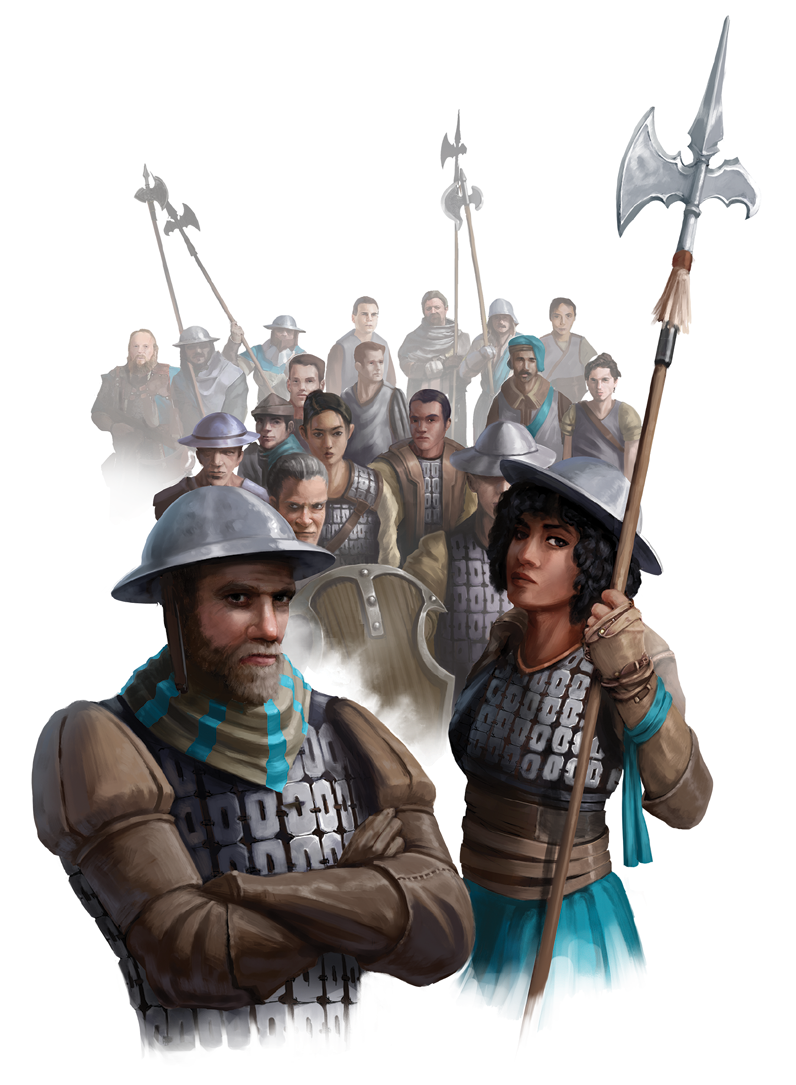 Let's use the "City Guard Squadron" as a real example. A city guard squad starts with 75 hit points and takes up 16 squares (20'x20'). They can do a group crossbow volley that does 3d8 damage in a 10-foot burst up to 120 feet away, or they can do a massed halberd attack at a closer range where the damage is dictated by how many actions they use. When they're reduced to 50 HP, they shrink to 15'x15', and at 25 HP not only do they shrink to 10'x'10', but the radius of their crossbow volley is reduced to a 5' burst.
Personally, I LOVE the idea of the troop creature. One thing that Second Edition has been missing is that certain "cinematic" niche in fantasy battles – in most books and movies, there's almost always a scene where our heroes fight waves of faceless grunts to demonstrate their heroic awesomeness. Helm's Deep is probably the gold standard here. Representing that as individual tokens would pose two problems. First, just by the law of large numbers, the mob would eventually generate enough crits to overwhelm our heroes: if you roll 100 individual attacks, and even only 10 or 15 get through, that still might be enough to kill a PC. Second (and perhaps more importantly), even if our heroes won, it would take FOREVER to run a combat like that and be a nightmare to administrate, leaving our GM with the age-old philosopher's question of how many angels can fit in a 5-foot square. Representing a mob of weaker creatures as a single token solves both those issues quite nicely, and lets you bring those more "epic" battles to your table. I'm looking forward to fighting one of these.
So at one end, we've got bundling up a bunch of weaklings into a single unit. At the polar opposite end, what are the most powerful creatures in this book? For some reason, that's ALWAYS one of the things I'm curious about. What's waiting out there to give even the most seasoned Level 20 PC nightmares? Fortunately, thanks to one of the multiple indexes in the back (creatures sorted by level), we can get an easy answer.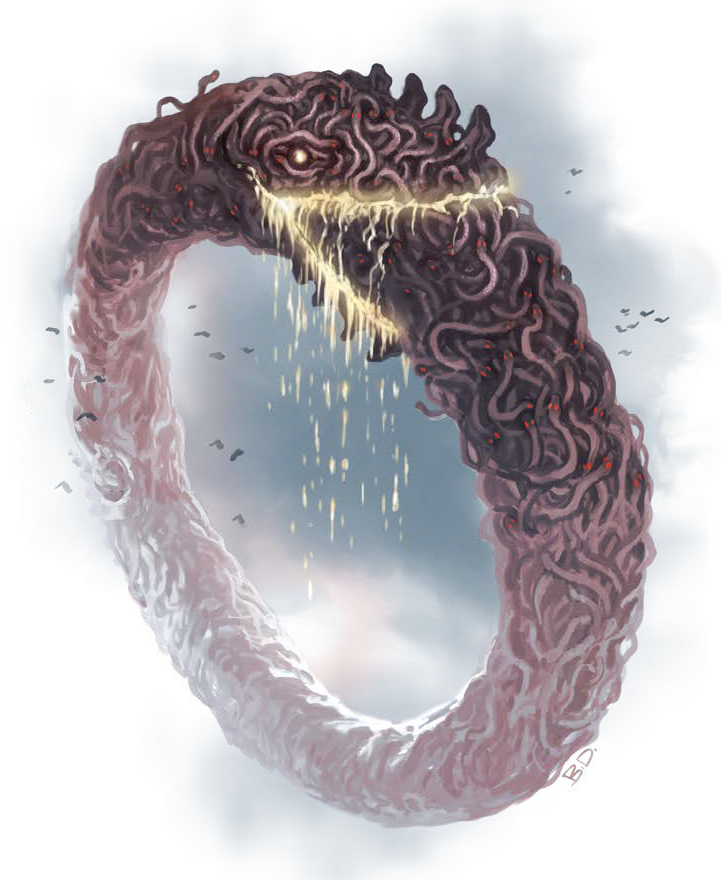 One choice is the Green Men, checking in at Level 24. The good news is they're guardians of nature, so most of them are neutral (though you can have good or evil-aligned ones). The bad news is… just about everything else. Including the "Green Caress" ability which slows you each time you fail a save, and if you're ever slowed to zero actions, you turn into a plant. Permanently.
We also have the Ouroboros. It is what you'd expect it to be – a snake that eats its own tail, though technically it's a giant snake made up of slightly-smaller snakes. Let's start with the math: it has a regeneration of 50, which is enough to offset the damage of its own bite, so its bite has to average 50 to break even. If you wound it, it drops its smaller snakes all over the place, causing difficult terrain that also bites at you. And ohbytheway, its blood is fun too. On first contact, it's "just" a really powerful acid. Then it turns around and starts regenerating you (which is actually nice) but inflicting other status ailments while it does so. And then at the end, it turns you into a pile of snakes.
And hey, if you're running a holiday-themed campaign, you can fight Krampus! In addition to being a generally nasty warrior and getting general bonuses against anyone he's deemed to be "naughty", Krampus can grab someone and stuff them into his basket, at which point that character starts regressing to childhood – they get smaller physically, their skills regress, etc. Oh, and Krampus is immortal and holds grudges, so even if you "kill" him one Christmas season, watch your back next year.
And OK… it's not Level 20, but it's got enough other cool features I have to mention it: the Level 18 Bone Ship. It's an undead pirate ship, basically. It's made entirely of bones, can spawn skeletal "sailors" from its own bones to defend the vessel if people try to board, and it's got a blood-red wake that drives people mad if they fall in the water. And if you get killed by it, your soul is absorbed into the "crew". The cool part is if you manage to beat it and bend it to your will, you can use it as a vehicle. ARRRRRR!
Now that we've covered the heavy hitters, I usually like to go through a bit of a grab bag and just point out a few monsters I found to be cool/interesting/whatever adjective you want to use. Sometimes it's the concept, sometimes it's the artwork, whatever happens to stand out about it.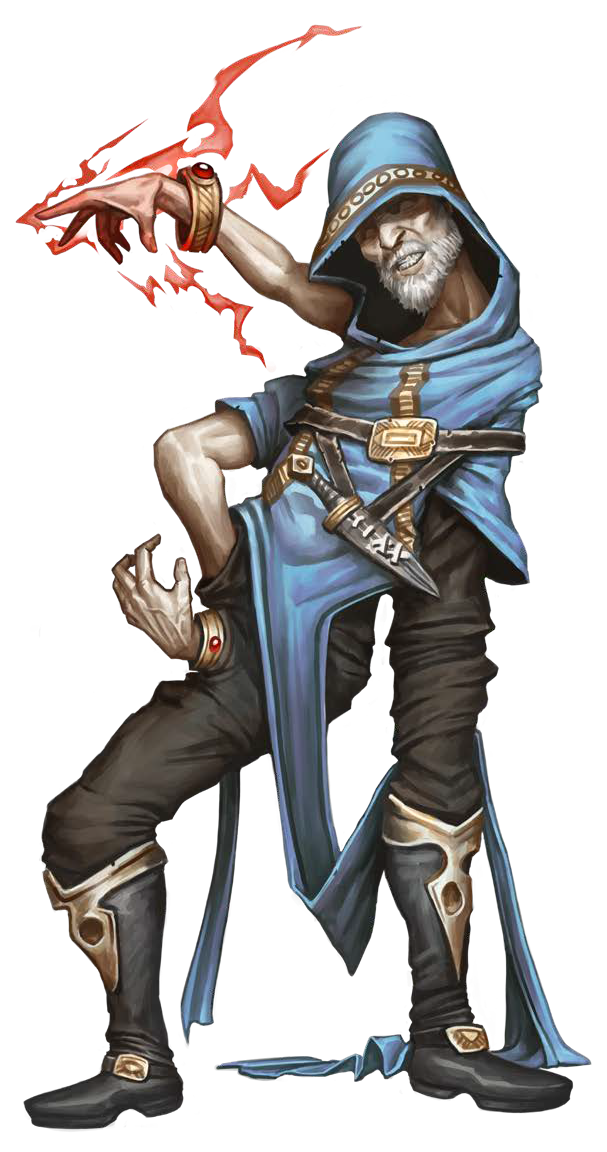 First up, there's the Amalgamite, which is a mage who's become warped through a mistake involving teleportation magic. It's BrundleFly without the fly – humanoid, with lots of body-horror vibes.
The Swordkeeper is a self-protecting magic safe that feels like a fantasy-world version of General Grievous. It has a central sword that it keeps housed in its body, which it can create copies of in its (four) arms. If you can disable all the locks, you can steal the sword which neutralizes most of its powers, but good luck doing that while it's stabbing you repeatedly.
The Hyakume feels like something out of Doctor Who. Visually, they have hundreds of eyes and a very "alien humanoid" appearance. In terms of concept, they're hoarders of knowledge: they gather rare knowledge and then destroy any copies of it so they're the only ones who possess it. This includes the power to erase people's memories.
Mostly for the benefit of John Staats, our resident otter-lover, I present the Kushtaka. On the surface, they're otter-humanoids, but they've actually been separated from their souls, so anything involving the undead world (ghosts, haunts, etc.) mostly leaves them unaffected.
Just in terms of generally cool concepts, there's Living Graffiti – a painting or drawing come to life. Yes, you're allowed to make the mental connection to DoodleBob.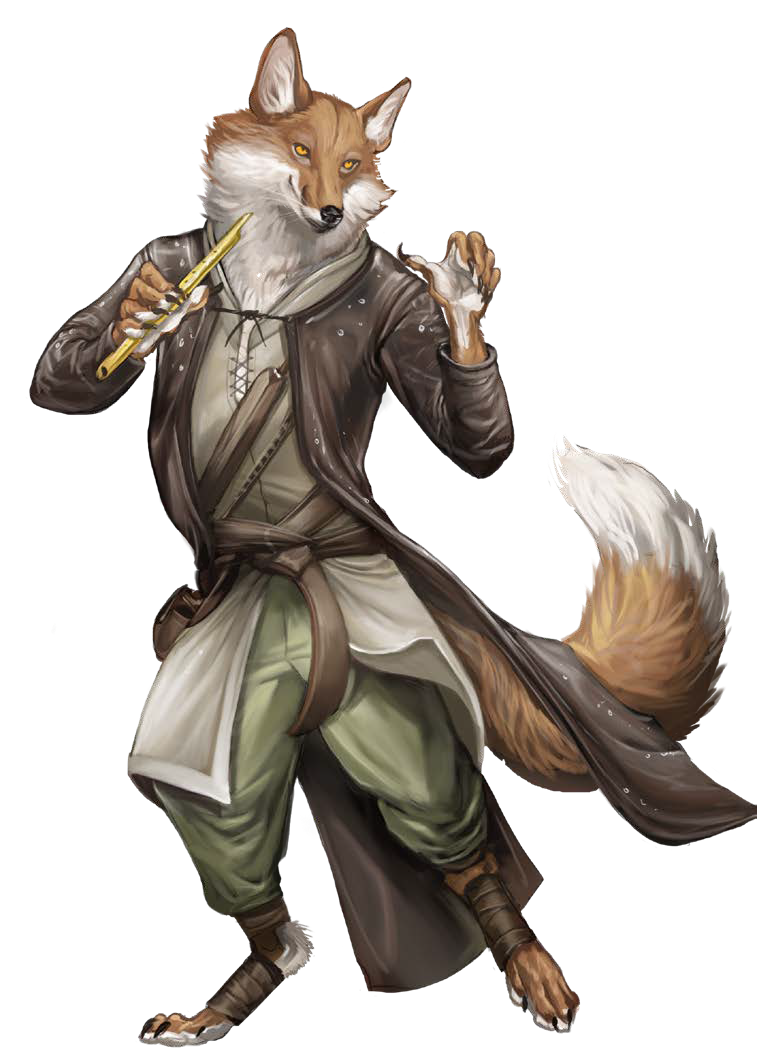 Now, I could probably name another 20 monsters and you'd like some of them and maybe have others you think I should've put higher on my list, but I think that gets you an idea of the feel of this book. It's a little more exotic than the other two Bestiaries, but that's not necessarily a bad thing. Familiarity is comfortable, but familiarity also runs the risk of becoming routine. Why settle for another 20 fights against orcs when you can tussle with something you've never seen before?
Is it a must-buy? Well, I personally would put the Lost Omens Ancestry Guide a little higher on my personal list, but I'm a player, so I'm all about giving myself options for that next re-roll. On the GM side of the screen, the core monster selection is a little "out there" but I think there's still good stuff here. The troop creature mechanic is a good tool and something that looks like it could be easily extended by the imaginative GM to other creatures not initially covered by the book.
As I said, it's something that could bring a more cinematic feel to your campaign, if that's something you're looking for. Also, if you're going to be exploring Tian Xia in your campaign, there's a lot of new options for that part of the map. OR… let's be blunt. At some point, it's like Pokemon… gotta catch 'em all. You play long enough, you're going to need all the monsters. If any of that sounds compelling and you want to give your campaign a few fresh faces, absolutely drag yourself to your local gaming store and grab a copy of this book. Maybe even grab some Dippin' Dots while you're out.