If you enjoyed this review make sure to check out our weekly actual play podcast where Jason and the team are playing the Starfinder Dead Sun's adventure path as well as the occasional Starfinder Society adventure as well.
Normally when someone says "more of the same", it comes across as a bit of a pejorative. "More of the same" sounds like "boring" or "uninventive".
But what if the "same" was already really good? What if the "same" was the Alien Archive, which delivered a nice batch of monsters for GMs to play around with, but also sprinkled in playable races for your players, new tech and magic items to stock your treasure hoards, and general world-building lore? Why would you reinvent the wheel if you got it right the first time?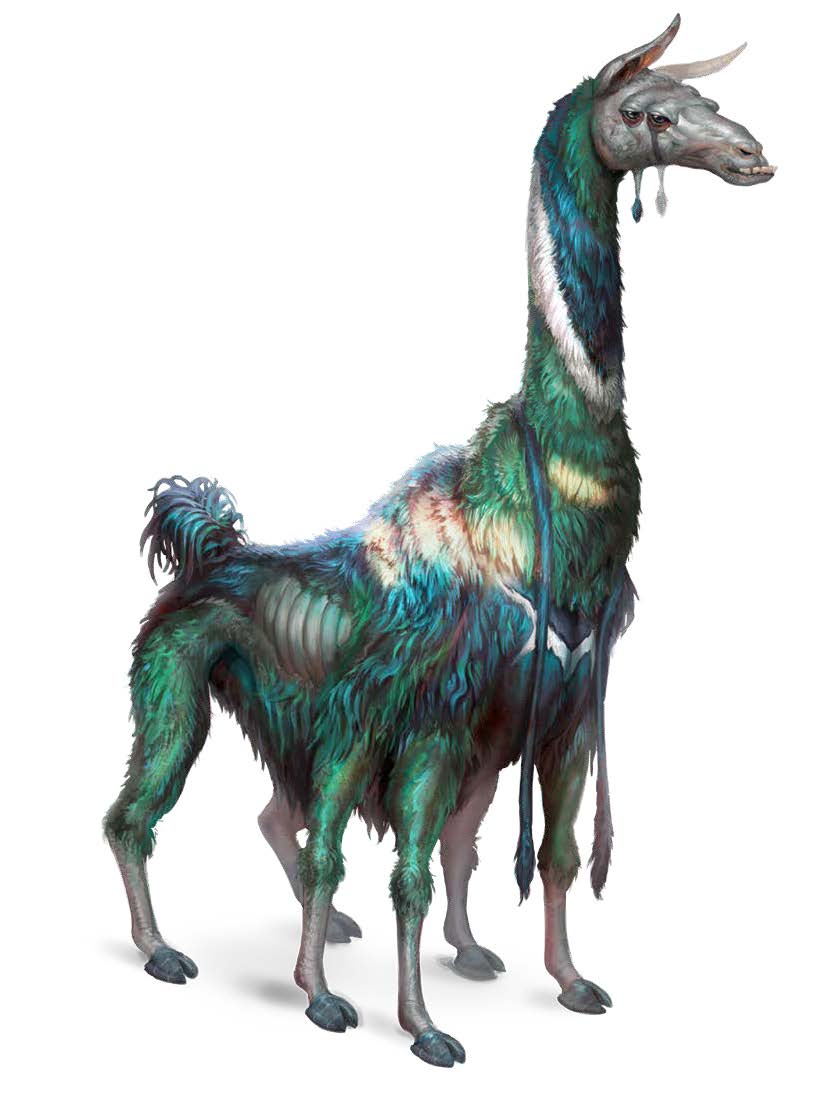 That's where I feel like we are with Starfinder's Alien Archive 2. I thought Paizo came up with a really good formula for the first book because I thought they made a nice reference book that gave GMs everything they needed to run their campaigns AND threw in some content for the players too. So they've basically done the same thing this time: the "mix" is a little different because there's maybe a little less world-building to do and slightly fewer playable races (only 16 this time as opposed to 20-some last time), but overall they stuck with what worked.
In terms of nuts and bolts, the table of contents lists 65 entries, though sometimes an entry is a single creature; other times, an entry might be multiple examples of the type, or a more general category of creature ("herd animals", to pick an example). For those of you who are compulsive re-rollers, 16 of those are identified as playable races. Slightly fewer than last time, but still a healthy chunk of new choices.  In terms of sourcing, most of the material is original, but there are some Pathfinder holdovers that have been converted to the new system, and they also imported a few creatures from adventure paths or Society games (I noticed the akatas and garaggakal from Dead Suns, off the top of my head).
This time, whether it was intentional or not, the book feels like it has a few broad "themes".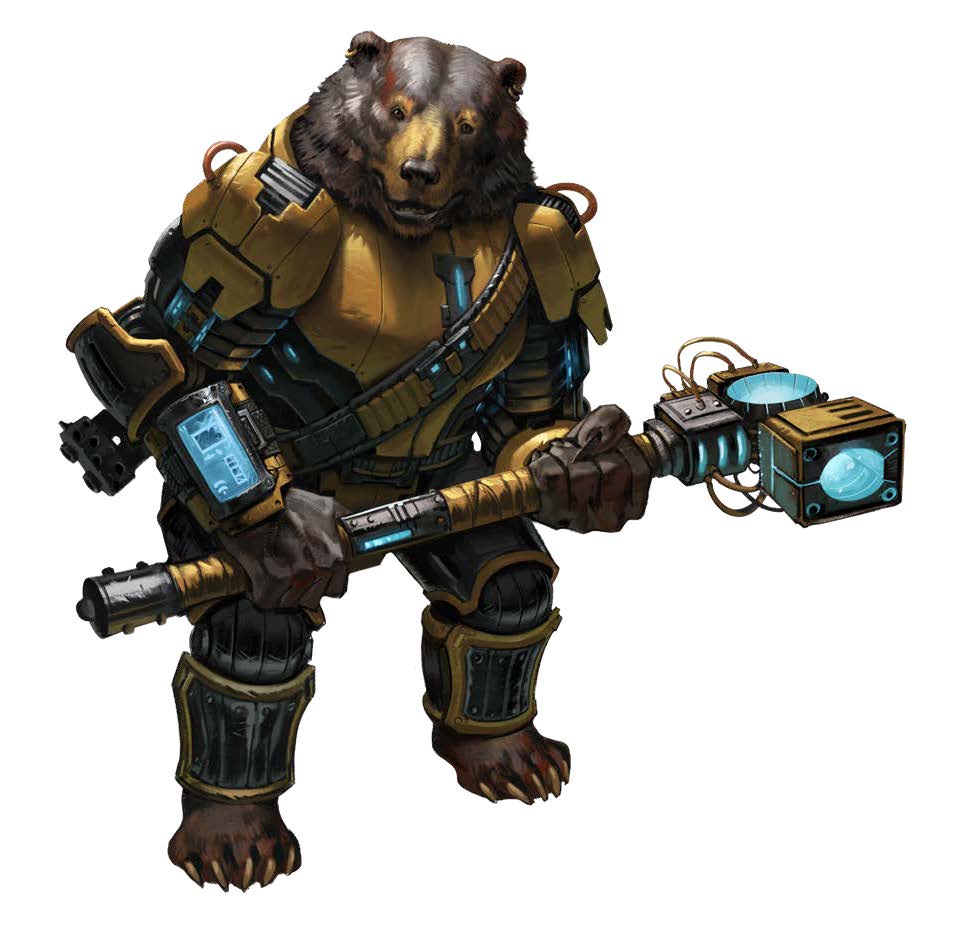 The first theme is animals. There are several "beasts of the forest" type critters, category entries for things like "predators" and "herd animals", and several of the playables are animal humanoids. The Pahtra and Vlaka have you covered on cat and dog/wolf humanoids, respectively, but the one our Discord channel was raving about (and rightfully so!) was the Uplifted Bear. I mean, you get to be a bear with humanoid intelligence who can wear armor and wield weapons (though, damn right, you also have claws that serve as natural weapons). The supporting text for the Uplifted Bear also gives us this gem:
"Uplifted bears are sometimes rumored to have violent temperaments, but their personalities are as varied as those of any sapient species. Some uplifted bears take great pleasure in playing to this stereotype when they meet other people, drawing out the biased assumptions of the ill-informed, and then mocking them."
I'm sorry, but if you can't muster a smile at the idea of a sentient bear that threatens to eat people before giving them a wink and a big hug, I don't know what to say to you.
I would also observe that the "Uplifted" concept feels like it could be applied to pretty much any animal. So… (taps microphone for benefit of Paizo people who might be reading) two words for Alien Archive 3: "Science Otters". The judges would also accept a team of Uplifted red panda commandos.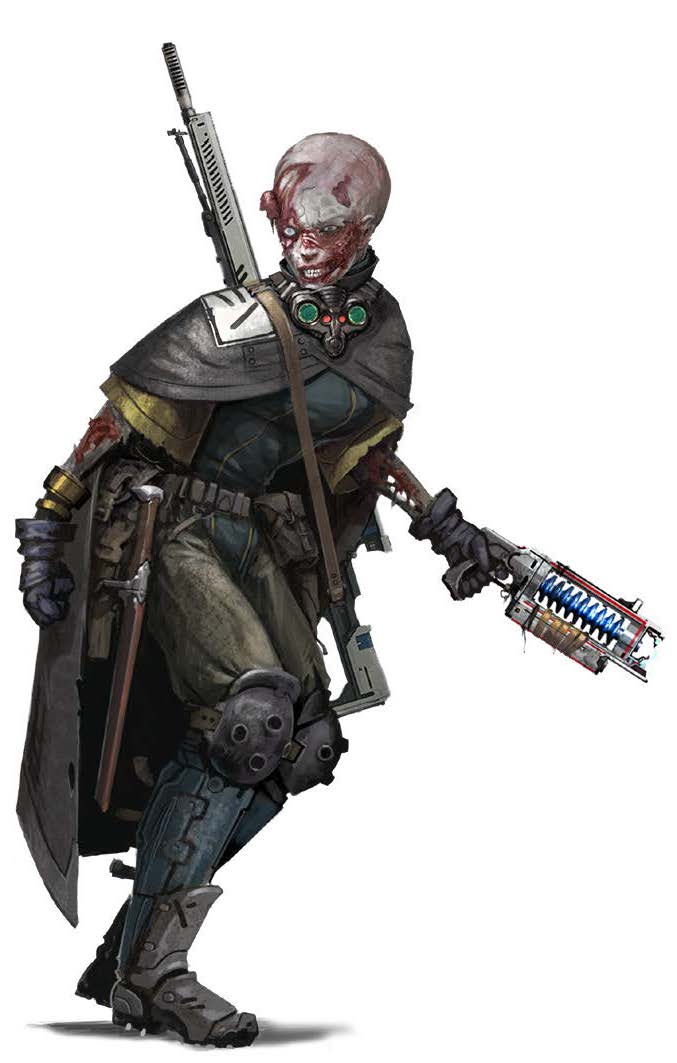 The other broad theme of Alien Archive 2 is a deeper dive into the world of the undead. It feels like Starfinder wiped the chalkboard clean as far as what we know about the world of the undead, and Alien Archive 2 starts to drill into that a bit more. So you have some classics like the Ghost and the Ghoul, but you also have newcomers like Corpsefolk (think of them as worker-class undead in Eoxian society – not quite zombies, but "real" undead look down on them), Bone Troopers (Corpse Fleet soldiers: they look like the aliens from Mars Attacks after a few months of Crossfit), and the Emotivores (undead that died under circumstances of strong emotion, so they have psychic abilities tied to emotion). For those of us who found the initial treatment of undead in Starfinder to be a bit of a blank slate, it's nice to see them… (wait for it)… put some flesh on those bones.
A few other random highlights that leap to mind: Lovecraft fans will cheer the arrival of the Colour Out Of Space – a malevolent cloud of shifting color that will do all sorts of bad things to you. It makes an appearance in a Pathfinder adventure path but gets brought into the future here. The velstrac are an extraplanar race who think religious enlightenment can be achieved by inflicting pain on themselves AND others, so they're a weird combination of brutal and masochistic. And then there's the CR20 Living Apocalypse. It's a cloud of evil radioactive energy that's the byproduct of large-scale destructive forces (power reactor meltdowns, firing of doomsday-level weapons), and it pretty much just destroys everything living in its path. And when it can't find anything to destroy, it can search for wireless communications to find new targets. Or… send out fake distress signals.
Turning our attention to playables, obviously the uplifted bear is the talk of the town, but there are several interesting choices. People feeling nostalgic for Pathfinder get orcs, hobgoblins, aasimars and tieflings (the latter two listed under the more generic "Planar Scion"). As I mentioned, the Pahtra and Vlaka have dog and cat lovers covered. My two personal favorites are the Ghoran and the Osharu.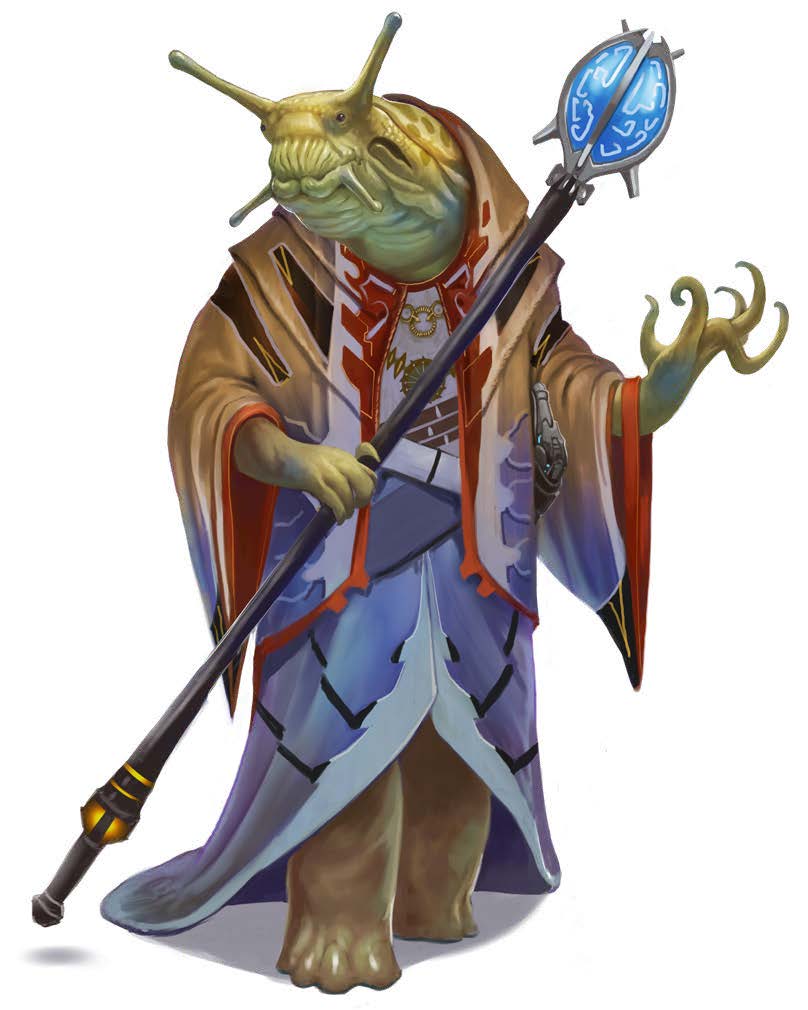 The Osharu – they're slug people. Right down to the ability to secrete slime to create difficult terrain. That's self-explanatory: who wouldn't love that? With the Ghorans, I'm drawn to the lore – they're plant people that started out as Pre-Gap creations of a druid, and they looked more like Swamp Thing. The druid designed them to be "perfect" but that included TASTING perfect, so humans hunted them almost to extinction to eat them. "NATURE'S PERFECT SNACK", quite literally. The surviving Ghorans went into hiding, survived, and eventually evolved into a more conventional humanoid form with two subraces. They also founded their own planet where they went full Genesis Device (minus the explodey part) and converted a barren rock to a floral paradise. Now THAT'S a backstory.
As with Alien Archive 1, the Alien Archive 2 has a sprinkling of creature-themed "extras" scattered throughout its pages. Weapons and armor, technological devices, ships, feats, etc. About half the creatures come with some form of add-on content – sometimes it's a tool or weapon used by the creature, sometimes it's something that can be made from the remains, other times it's just "scientists tried to figure out how the ability works and came up with this gadget that does a similar thing". The one thing I appreciated is that AA2 puts these into an index in the back – something AA1 did not do – so you can look up the page an item is on with minimal fuss.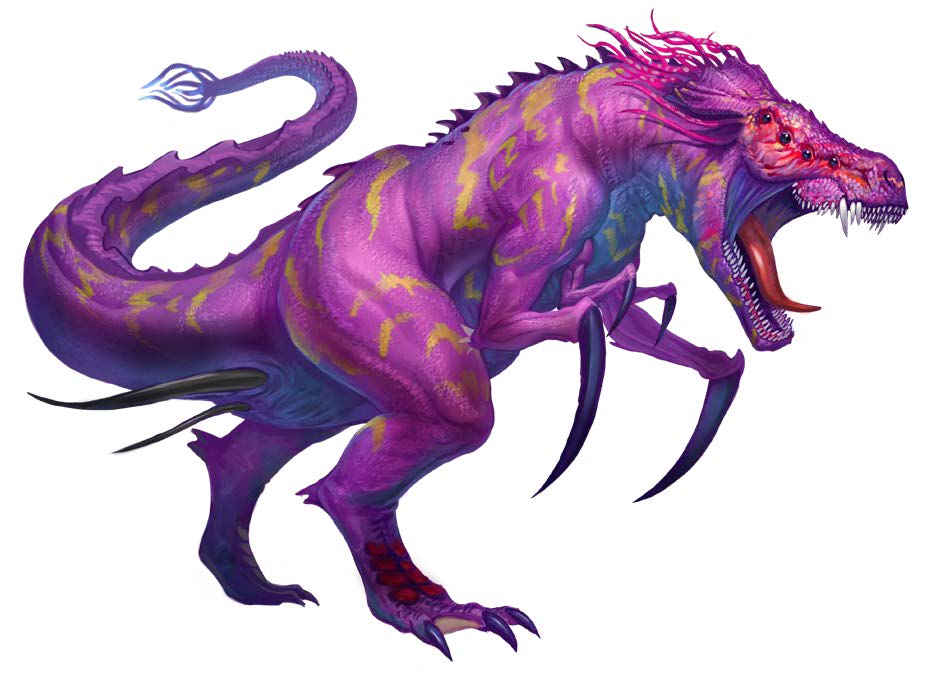 Speaking of "the stuff in the back", whereas Alien Archive 1 felt like vital reading because it explained the system for creating creatures and gave rules for how to do it, Alien Archive 2 is more standard "back of the book" stuff that mostly just expands that system to account for this new content – as such, it's probably only essential for the homebrew GM. There is a useful appendix that gives detailed rules for polymorph – in addition to formalizing polymorph as a spell (self or mass) and feat, it answers the questions of "how much of the polymorphed character is still you, how much is the critter you're turning into" through the mechanism of "forms" – the GM and player work to create a "form" for the combined character. The rest of the appendices are mostly just lists and indexes: creatures by CR, creatures by terrain/environment, index of where the "extras" are, index of the playable races, etc. Not new content, but does make it a LOT easier to navigate the book. In comparison, AA1 only had a single table for creatures by CR.
All in all, I'd consider Alien Archive 2 to be a successful addition to the Starfinder line. If my praise seems a little more subdued, it's probably just because it's the first follow-up book – Alien Archive, Pact Worlds, and Armory were the first books of their kind, and Alien Archive 2 is just going back to the buffet for another plate. But if you feel like the Alien Archive model represents a winning formula – and I do – then it's just a question of how big an appetite for new monsters you have. To that, I say "keep 'em coming!"