Make sure to read Jason's review of the Pathfinder Second Edition Core Rulebook, as well as his review of the Pathfinder Lost Omens: World Guide, Character Guide, Gods & Magic, Gamemastery Guide, and Bestiary 2.
If you enjoyed this review make sure to check out our Pathfinder Adventure Path: Three Ring Adventure and our Tales from the Black Lodge Podcast.
Confession time. As someone who almost always sits on the player side of the table, I've grumbled my way through the Gamemaster's Guide and two Bestiaries muttering "what's in it for me?" under my breath.
The Advanced Player's Guide for Pathfinder Second Edition does NOT present that problem. It's ALL about the players. Five new ancestries, four new classes, a vastly expanded archetype system… for those of us who get so distracted making new characters that they forget to actually play the game – this book's definitely not going to help that problem at all; in fact, it'll just make it worse. Now when I say "new", I suppose we can be honest and say that a veteran of First Edition will recognize most of what's in here from First Edition, but I'm going to mostly write about everything as if it's "new"-new since you never know who decided to take the plunge with Second Edition and doesn't have that background to fall back on.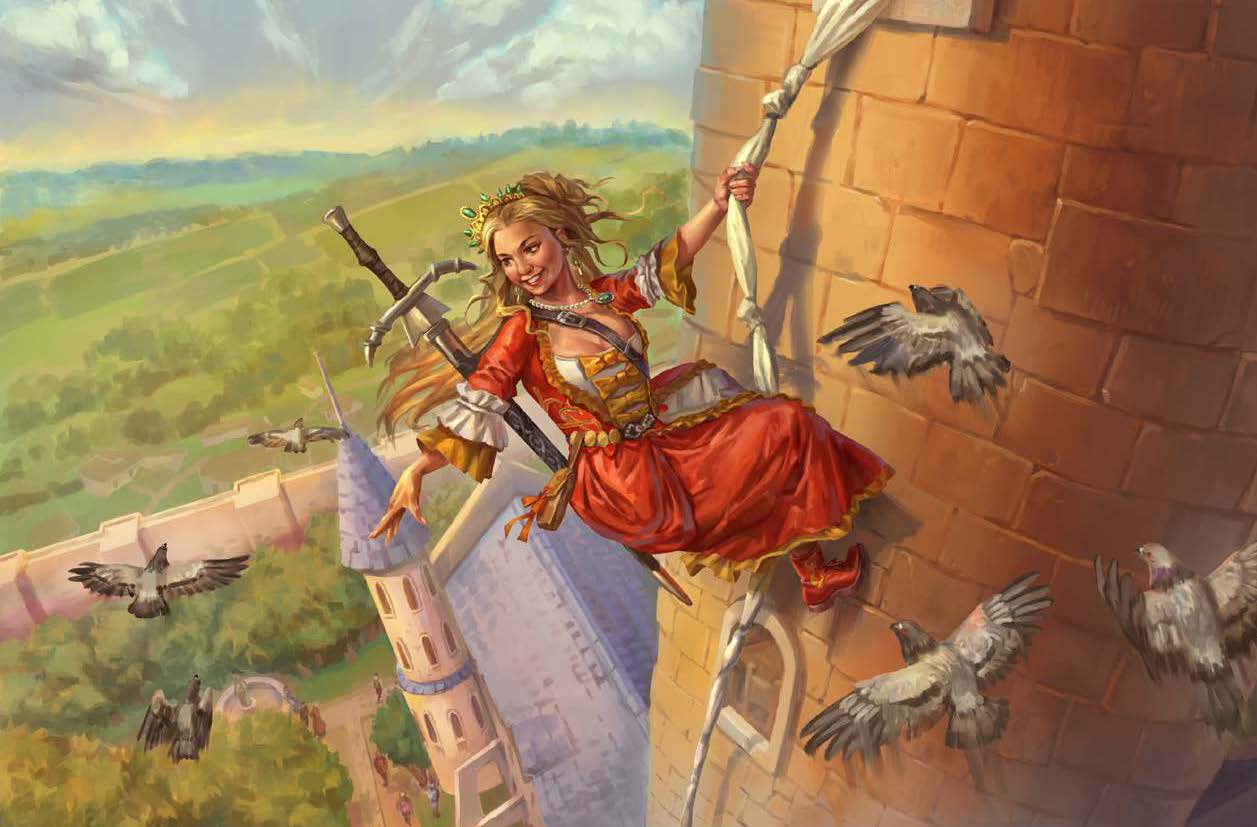 It's tempting to skip ahead and start with the new classes since that's probably the "big deal" to many players, but I'm going to maintain sanity and follow the flow of the book for now. So let's talk ancestries. I should start by saying two things. First, I'm trying to break old habits and not just reflexively write off ancestries I don't personally think I'd like (cough-kobolds-cough). We can thank Starfinder for that: I decided to play a ysoki largely as a goof, and Dr. Tuttle Blacktail turned out to be one of my favorite characters ever. But I'm also gonna say that on the POSITIVE side, I can barely contain my excitement that the tengu made the cut here – I LOVED my Bird Buddies in First Edition and can't wait to roll one. Not so much that I'd get reckless and suicidal with my current Society character (among other things: Steve would probably kill me if he had to get new artwork done), but the gears are definitely turning.
At any rate… let's take a quick look at each of these.
PEOPLE ARE PEOPLE (ANCESTRIES)
Cat folk (as opposed to "Cat People" which is a more obscure and VERY 80's David Bowie track) have DEX and CHA as bonus stats and WIS as a flaw, so they're going to make good rogues, bards, and such. Stature-wise, they're not a "small" race, but more like elves – on the small, lean side of human norms. One thing that amused me is that they worked the old "cats always land on their feet" adage into the fabric of the character and catfolk take reduced damage from falling. I also like that they have catfolk names and names they use with outsiders that loosely correspond to pet names – so if you want to call your catfolk "Mr. Mittens"… well, that's just their public name, and they still have a more dignified one for polite catfolk society.
Kobolds are dragonfolk, but runty ones – they actually ARE a small race. Like catfolk, DEX and CHA are their bonus stats, but their negative is CON, so you want to be a little more careful about putting them on the front lines. One thing I noticed about these guys is that some of their feats revolve around people underestimating them or not taking them seriously – for example, there's a feat called Cringe where you can make an enemy feel sorry for you and pull back on an attack, doing less damage. On the more formidable side, they do have to end up getting access to a lot of dragon-y things – bite attacks, a poison tail, innate magical ability, even a scaled-back breath weapon – as either heritages or ancestry feats. And there's also a path to be oddly good with snares.
Orcs are… orcs. I suppose once the half-orc heritage existed, it was inevitable that a whole-orc would come along to fill out the roster. Their main ability score is STR, and they (along with tengu) trade not having a second stat bump in exchange for having no flaw. Most of their feats are geared toward toe-to-toe combat, though there's also a subset of feats that pertain to training beasts, so they might play well as rangers or druids too.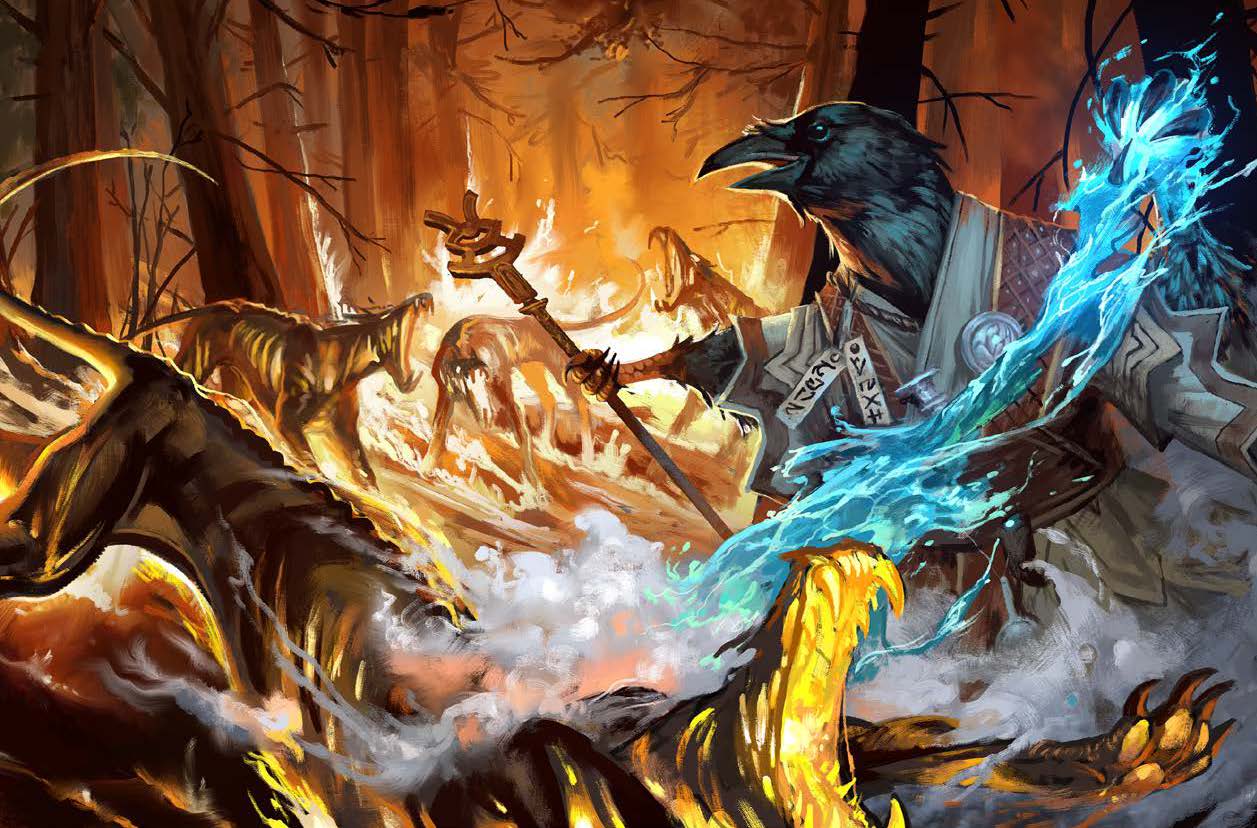 Ratfolk, also know as ysoki, are smart and nimble (DEX and INT), but STR is their flaw stat. They make good casters, rogue-likes, and such. Their feats are an interesting grab bag – some underground/dungeoneering type skills, a lot of skills that take advantage of kinship with regular rats (able to speak with normal rats, the animal messenger spell, even an ability to disguise one's self as a regular rat, etc.). And then there's the cheek pouches: ysoki can store items in their cheeks for easy access, which is moderately useful (it's generally only an item of Light Bulk unless you take additional feats) but it's GREAT roleplaying flavor to be able to, say, stash a wand in your mouth to sneak it past guards.
Lastly, we have my personal favorite, the tengu. I don't know… I'm just attracted to the idea of bird-based humanoids. Their bonus stat is DEX, and like orcs, they trade lack of a flaw for their second bonus stat. Now, tengu are generally flightless, but you can take the Skyborn Tengu heritage that gets them the equivalent of a feather fall ability, and there are feats you can take to get more of a full flying form at higher levels. They also have a smattering of electricity-based feats and have an affinity for swords, such that normally-exotic swords like katanas and temple swords are familiar to them. Annnnd… oh dear… I'd better move along before Nella starts wandering precariously close to cliffs.
Now, when I say there are five new ancestries… that wasn't quite the whole story.
SWISS-ARMY SCIONS (VERSATILE HERITAGES)
The Advanced Player's Guide also introduces us to the concept of Versatile Heritages. You know how half-elf and half-orc sneak in the side door as human heritages? Well, imagine heritages that can be applied to ANY ancestry in place of a "normal" heritage, and that's what a Versatile Heritage is. Now, veterans of First Edition will recognize these as additional First Edition races, so by a First Edition measuring stick, there are five more choices we didn't have before. We've got Changelings (part hag; also usually but not exclusively female), Dhampir (mortal spawn of vampires), and Planar Scions (aasimar, tieflings, and duskwalkers – half-angel, half-devil, and… we'll come back to what duskwalkers are). So instead of just being "a Tiefling" you can be a "tiefling human" or a "dhampir catfolk".
At first glance, I'll admit I was a little thrown by this. Over the years, I had a Tiefling rogue I was kind of fond of (though he mostly appeared in computer-based games like Neverwinter Nights), and my immediate knee-jerk reaction was "why is Noem being reduced to a second-class citizen"? But then I thought about it, and as a roleplaying mechanism, it may actually be more powerful this way. Those separate ancestries like aasimar and tiefling have always kind of been "half-something", so acknowledging that a) lets you be more flexible about what the other "half" is and b) lets roleplayers really dig into how they wish to identify. One Changeling might want to deny their hag side and blend in as an elf; another may proudly be "yeah, my mom was a hag, catch these hands… errr… claws!"; a third may not really be in touch with either "side" of themselves and just feel like some oddity set loose in the world. In some ways, I feel like it's a more versatile roleplay tool than just saying "if you're part vampire you're cut off the other half of what you are and the vampire-ness becomes your entire identity".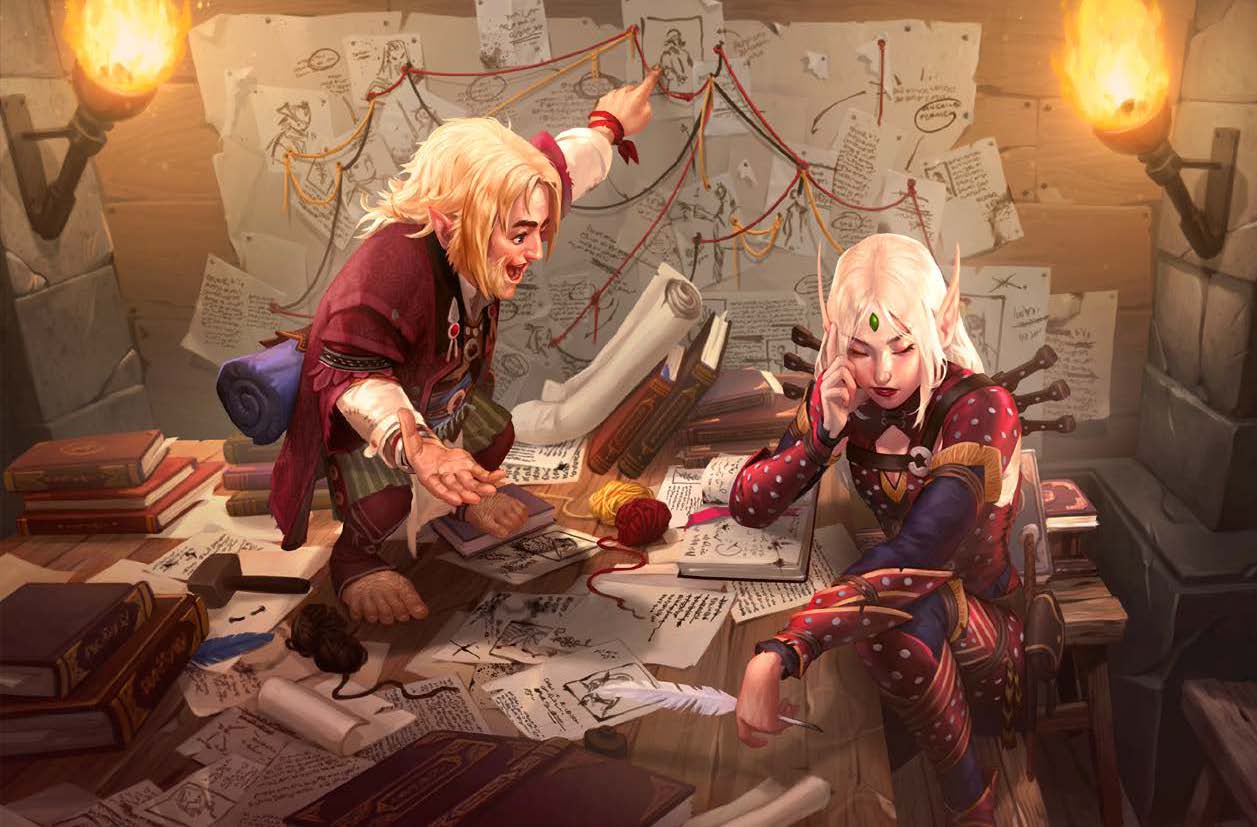 I also wanted to stay on Duskwalkers for a second because of the lore: they're the one entry here that's not "half-something". Their background gets into the mythology of Pharasma and The Boneyard. Sometimes the guardians of The Boneyard (psychopomps) can't decide what to do with a soul after death: reincarnate it into a new form or send it on to its final destination. In a select few cases, they basically punt the decision and bring it back as a Duskwalker. Think of it as an earthly enforcer of the cycle of life and death – they've got lots of little perks that make them effective against undead. But of course, they're also outsiders, including gray or blue skin that makes them look half-dead, so you're giving up "fitting in with society" to make that happen.
OK, we're almost up to the new classes, but before we get there, there are a few smaller sections to cover. I hate glossing over, but we have a lot to cover. We have a few new ancestry feats for the Core Rulebook ancestries, a few new common backgrounds (in a very Sweeney Todd twist, the "Barber" background gives you Surgery Lore and the Risky Surgery skill feat), and perhaps the most interesting concept: Rare Backgrounds. These are backgrounds that are a little more exotic and require a GM consult before taking. Some of them have more powerful benefits than your normal skill bumps, but some also come with drawbacks as well. The most intriguing one I saw here was the Amnesiac – where you don't actually know your character's own backstory but the GM does. That's evil, and I love it.
WELCOME TO THE CLASSY CLUB (CLASSES)
OK… we're here. New classes. Obviously these aren't TOTALLY new because they conducted a playtest, and even within our show, we're actually using the playtest version of two of those classes. But here they are… the final versions, released into the wild.
First, we have the Investigator. I'd describe it as a little bit of rogue, a little bit of alchemist, and a LOT of stuff that is skills-based that doesn't really fit ANY of the other classes. Everything flows off the concept of Investigations and the core skill "Pursue A Lead": think of it as an intellectual Smite target. Once the Investigator is on an active case, they start getting bonuses to rolls if it's related to the investigation. On the combat side, it can make the Investigator's attacks more effective in fights related to the investigation; in skill challenges, the Investigator becomes more effective at things like Sense Motive, Perception, and other "detective-y" skills. In combat, they're never going to be mistaken for a front-line fighter, but they do have some alchemy skills and they have class tools ("Devise a Stratagem" and the "Strategic Strike") that they use their Intelligence to attack with precision damage that increases as they level. But let's be blunt: the Investigator is context-heavy and depends on your table's campaign style. If your campaign style is primarily straight-up dungeon crawls, the soft skills mostly go to waste and it's hard to see it filling much of a role unless your GM is REALLY generous about what constitutes an "investigation". But if you're doing campaigns that get into roleplay and palace intrigue and solving mysteries, an Investigator has a GREAT flavor and a really interesting toolkit for those.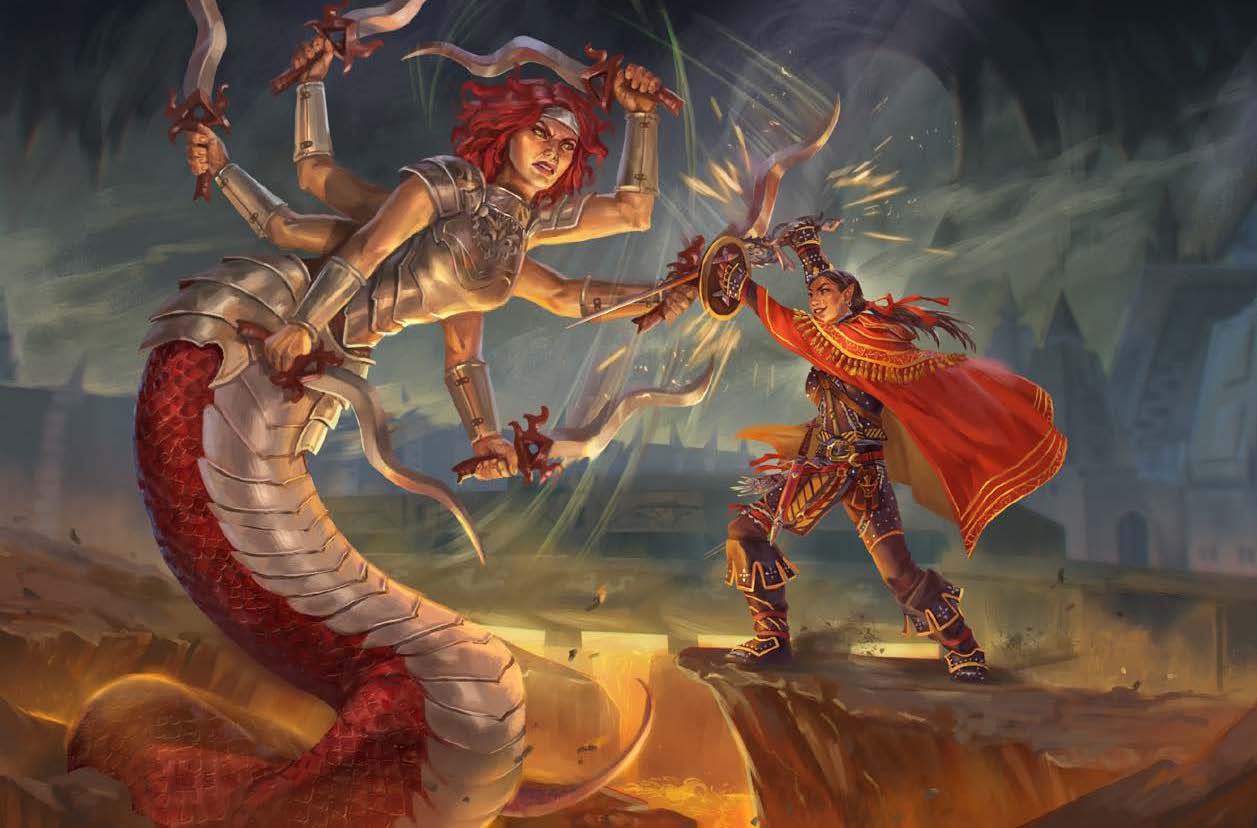 The Oracle, at its heart, is a Charisma-based divine caster. Lore-wise, it's a divine caster that doesn't serve a particular god, but rather serves universal "Mysteries" like Battle or Flames. In addition to a general repertoire of divine spells, an Oracle has specialized "revelation spells" related to their Mystery which they can cast from a separate pool of focus points. The good news is those focus points regenerate every short rest, so you have almost-constant access to some pretty powerful tools. The bad news is you have to manage the downside effects of those spells, which can get pretty severe, and never totally go away until you take a full 8-hour rest. Just to pick an example, your Flames oracle starts with a "vision" of flames that just makes it hard to see past 30 feet, but if their curse gets all the way to the Major level, they generate a 4d6 flame aura (actual fire, not "holographic" flames) that damages friend and foe alike, and also damages themselves for 1d6 per round… unless they use one action each turn to actively suppress it. In addition to all of that, they also have a package of class feats that focuses on ties to mystical knowledge – some of the classic metamagic feats like Reach Spell and Widen Spell, things like a premonition that lets a party member roll twice for initiative and take the better result, or an always-on Detect Magic ability.
Next up we have the Swashbuckler, which Vanessa Hoskins is playing in our Extinction Curse show. How best to characterize this? Half rogue, half bard? A rogue with 38 pieces of flair? Essentially it's a nimble DEX-based fighter that uses skill-based moves to generate "panache", that both has passive benefits and can also be used to power other abilities and finishing maneuvers. Mechanically, it's reminiscent of the rogue in World Of Warcraft, except that panache is binary – you either have panache or you don't. The default finisher you get at Level 1 applies precision damage, but you can also use finishers that stun, apply bleed damage, or other effects. The class also has a general focus on movement – Acrobatics is a core skill and several feats combine movement and attack into a single action – and a lesser focus on luck, where you have abilities that let you roll twice and taking the higher result.
Lastly, we have the Witch, which is also represented in our Extinction Curse show by Rob Pontius' Ateran. Like the Sorcerer, the Witch can originate from any of the sources of magic – you'd think occult would be a natural fit, but Witch backgrounds are varied enough that you can have a Witch of any of the four magical traditions. The Witch has a couple of interesting features. First, the Witch's familiar is basically a living spellbook – it holds the Witch's full array of spells, from which the Witch selects the day's specific choices, and it can learn new spells from reading scrolls or talking to other familiars. There are also several class feats that allow Witches to "beef up" their familiar in interesting ways. Second, the Witch's main class feature is the Hex spell: these are usually (but not always) sustained spells that the Witch can cast and sustain over multiple rounds to enact various effects on friends and enemies. Less "Big-N-Boomy", more "stand there and watch the bad guys melt away", though they can certainly still have a few big bombs in their conventional spell arsenal. Like some of the other caster classes, Hexes run off a pool of focus points instead of spell slots, so they can be replenished through short rests.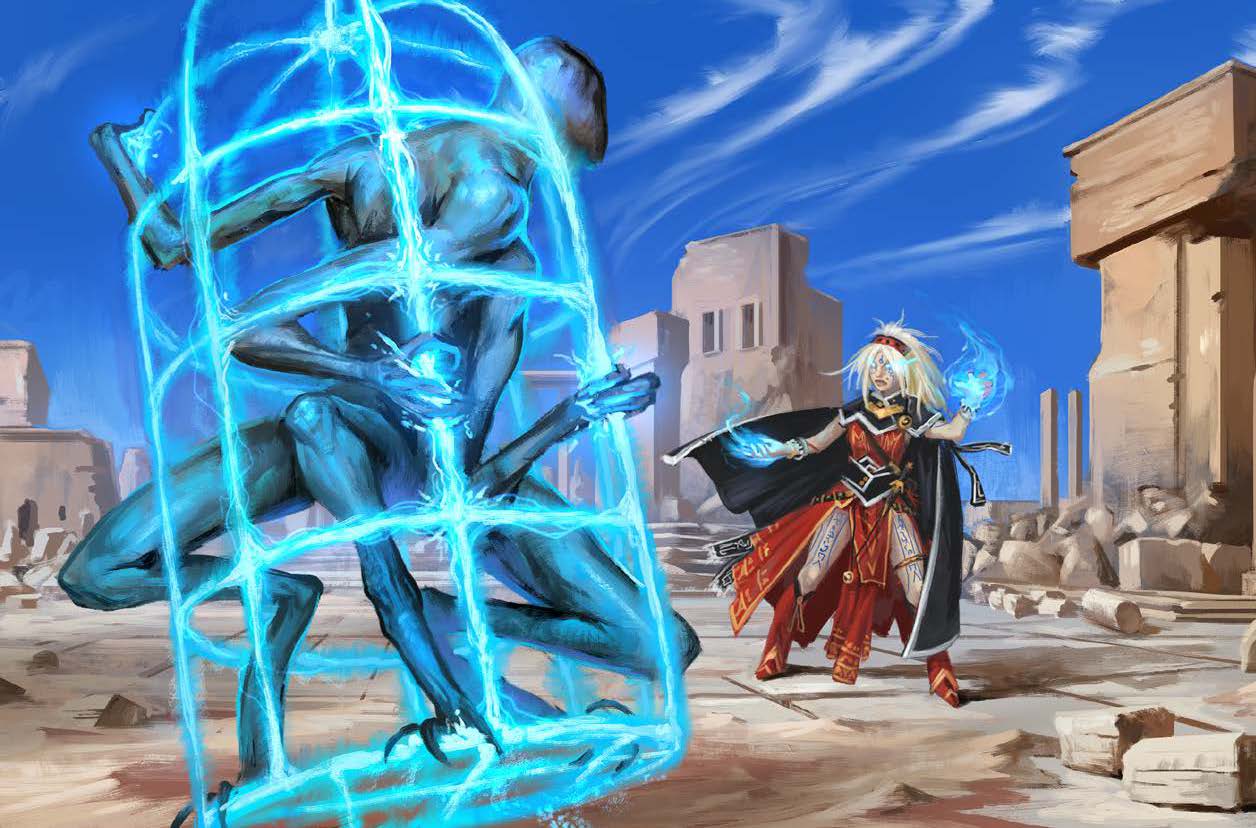 The section on character classes closes with a brief revisit to the classes of the Core Rulebook. Most of this is just adding a few extra class feats, and… everyone's going to have their own favorites. I personally kind of like the Druid's Verdant Weapon, which is a seed that can grow into a weapon of the Druid's choosing and then shrink back down. That's pretty damn cool, flavor-wise. But two things stand out. First, sorcerers get a few new bloodlines – genie, nymph, psychopomp, and shadow. But perhaps more interesting, the Champion class finally puts a stake in the ground on evil champions – the Tyrant (Lawful), Desecrator (Neutral), and Anti-Paladin (Chaotic). Obviously evil characters should be used with caution in general and can't be used in Society play at all, but it's a welcome and necessary addition to the overall fabric of Second Edition.
There's also a very brief section that adds a few new familiars. Not much to say here except that a "Spellslime" is now an option. If you don't think my next caster is having a slime familiar, you don't know me very well. I SHALL CALL HIM "SQUISHY", AND HE SHALL BE MY SQUISHY!
But look, we've arrived at the stealth star of this book – a dramatic expansion of Archetypes.
WELCOME TO INNER COAST CUSTOMS (ARCHETYPES)
Up until now, "archetype" in Second Edition had mostly been synonymous with "multiclassing". There were a few fairly specialized archetypes in the Lost Omens World Guide (Hellknight, Red Mantis Assassin, etc.), but most of those had fairly specific entry criteria. But with the Advanced Player's Guide, the world of archetypes is DRAMATICALLY expanded and takes it in all sorts of interesting and flavorful directions. (Though in fairness, four of the entries are the multiclass archetypes for the new classes we just discussed above.)
The Beastmaster, for instance, provides an easy way to bolt an animal companion onto any character. Is it going to be as dynamic as a ranger that specializes in the bond? Of course not. But if you want a monk who happens to have befriended a giant toad (guess whose kid is re-watching Naruto at the moment?), it's an option.
Or maybe you want to be a cleric that just happens to be REALLY good with a shield. The Bastion archetype has you covered – it's JUST shield-related skills, such as adding block to characters that wouldn't normally have it, the ability to treat a shield hand as a free hand for the purposes of casting spells and retrieving items, and so on. One of my favorites is the Medic: it gives you things like increased healing on Treat Wounds, the ability to use Battle Medicine a second time on the same ally, the ability to combine a Stride and a Battle Medicine into a combined action, and at Level 16 you can even try to raise a recently-dead (three rounds) teammate solely with healer's tools.
It's not all optimized for combat, though. You can also be an Archeologist, where you can get access to a few information-gathering spells even if you're not a caster, you can use Society to decipher writing, and various Knowledge and Lore bonuses are available. Or you can be a Celebrity (Golarion has Instagram influencers?) – which can give you benefits earning income, can modify certain persuasion-based checks because people are drawn to you, and such.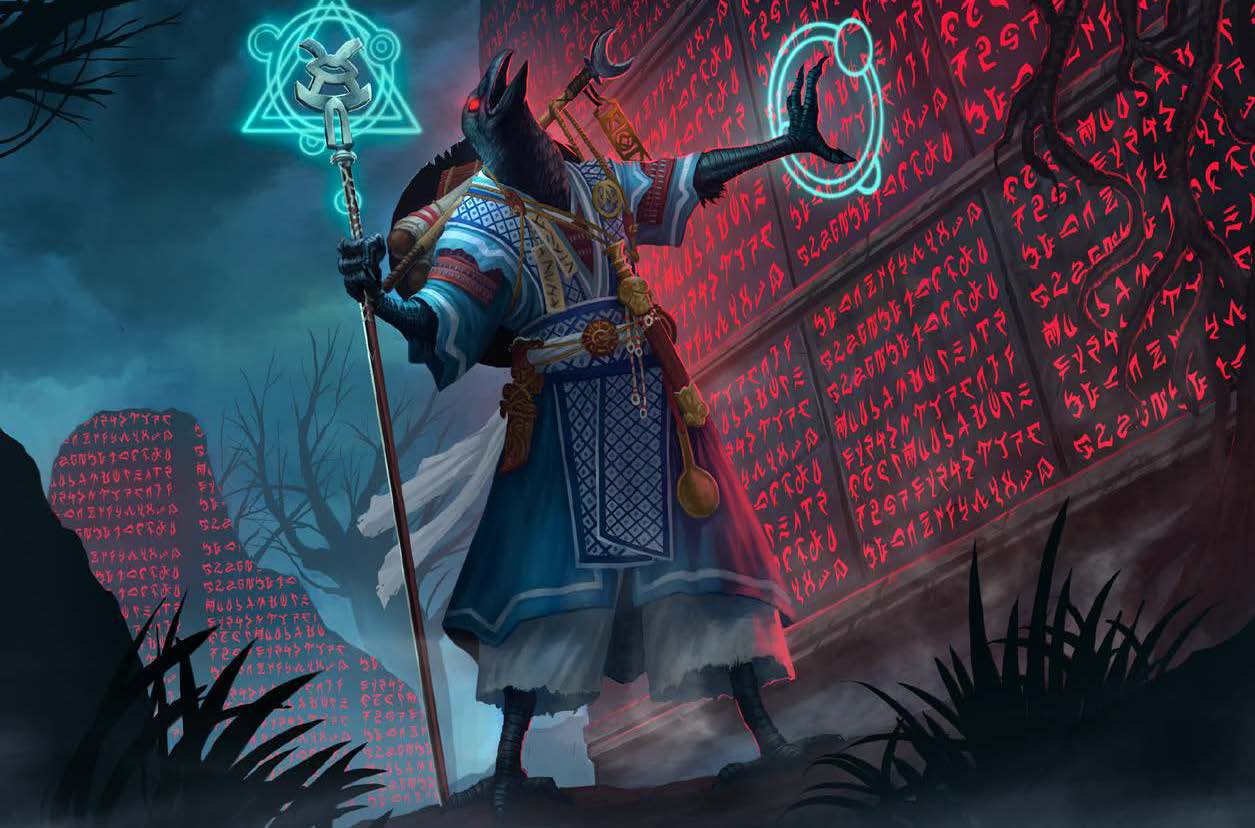 I should mention that some of these are gated in one way or another so that it doesn't turn into a free-for-all. For Eldritch Archer, for example, you have to already be an Expert with some sort of bow, and it isn't even an option until Level 6. Dragon Disciple doesn't have a level gate but does require some sort of draconic influence – a draconic sorcerer, a dragon instinct barbarian, or a kobold with the dragonscaled or spellscaled heritage. So this isn't just "everyone can be whatever they want" anarchy – there's some degree of thought about who should be walking around with some of these abilities. There's a general restriction that if you go into one archetype, you have to put at least two additional skills into it before you can do another, so you can't do some ridiculous thing where you mix-and-match from six different archetypes to make a complete Franken-character.
It also feels like a system that's really easy to extend as needed. Want to make… I dunno…. a blitzball player from Final Fantasy X? Create an archetype that has some water-breathing and swimming skills, maybe a few ranged attack bonuses, and you're basically an honorary member of the Besaid Aurochs. Minus the Tidus Laugh, which you have to supply yourself.
YOU'RE THE REST… AROUND (THE REST OF THE BOOK)
The remaining chapters are comparatively short, but we'll take a brief look at them. First, we have some new Feats for the taking, and I'll just toss you a couple of quick favorites to give some of the flavor. First, there's Lead Climber, which allows a good climber to basically use their skill to make it easier for people that follow them – set ropes, point out handholds, etc. Pilgrim's Token is a nice simple Level 1 Religion feat that gives you a token that breaks initiative ties in your favor. But my favorite is Risky Surgery, a diabolically amazing Medicine skill – you do an additional 1d8 slashing damage to the patient, but then you get a +2 on the Treat Wounds, and if you succeed, it becomes a critical success.
The next chapter is spells, and there's really two parts to this. There's a solid 14 pages of new additions to the main spell lists, and there's some fun stuff there. I will say it's mostly lower-level additions – just skimming, I saw ONE 7th level spell, and only a handful higher than 5th. My personal favorite here is "Vomit Swarm" where you basically shoot a cone of bugs out of your mouth that sting people in its path for 2d8 of damage. The other half of the spell chapter contains the focus spells which is almost entirely the new content presented in this book – Oracle revelations, Witch hexes, spells for the evil champions, and the new sorcerer bloodlines. Other than that, there's a HANDFUL of monk, bard, ranger spells, but the vast majority of this part is enabling the new classes. At the end of the chapter, we add a surprising number of rituals – from a fairly low-level ritual called Heartbond, which allows two people to know each other's rough location (distance and direction) through a two action concentrate; to Clone, which basically prepares a clone of a character's body which the character's soul can use as a new home if the original character dies. (Annnnnd… we've officially crossed the streams with Altered Carbon.)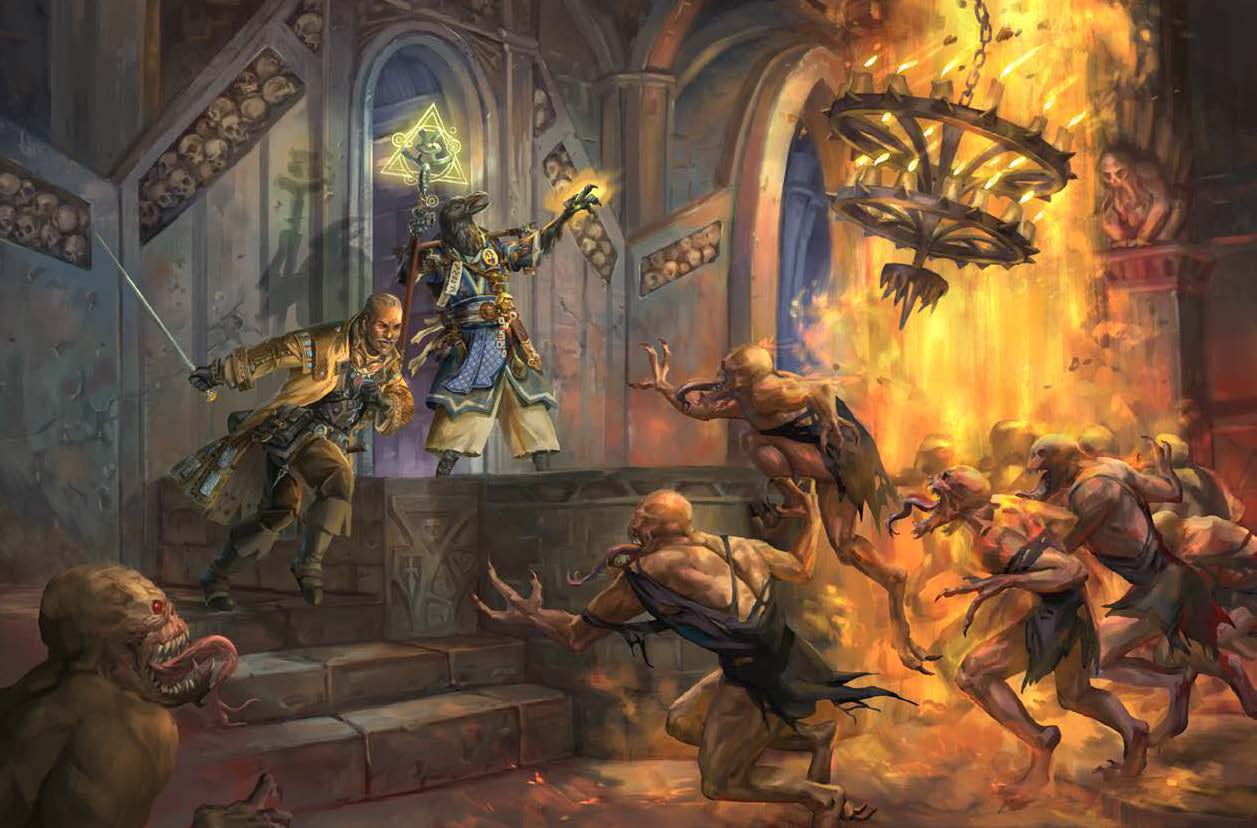 Last, we have a brief section on items, magical and otherwise. The non-magical items seem mostly like they exist to enable the new content of this book – lots of detective tools and a few exotic swords for tengu to play around with. Though… I gotta say… two magical words: "sword cane". The magic items were a nice mix: personally I liked the Earthsight Box. It's a box full of sand with dwarven runes, but if you activate it, the sand forms into a 3-D tunnel map of everything in 60 feet in any direction. It's not explicitly stated, but since it reveals tunnels and "voids in the earth" when underground, it sounds like it might also be a decent secret passage detector.
But anyway… that's the Advanced Player's Guide. I just gotta say I really loved this book. Not just in a superficial "I'm a player, give me toys to play with" way… though, yeah, also that. But I think what really leaps out to me is that the things I appreciated most are NOT the things I expected to like going in. New classes, new ancestries… of course it's going to be fun to play around with those. But things like Versatile Heritages and the expansion of Archetypes really made the light bulb turn on and started to really show where Second Edition is going as a system. I think you're definitely gonna want to add this one to your bookshelf. That aasimar tengu pirate isn't just gonna roll itself!