Make sure to read Jason's review of the Pathfinder Second Edition Core Rulebook, as well as his review of the Pathfinder Lost Omens: World Guide, Character Guide, Gods & Magic, Gamemastery Guide, and Bestiary 2.
If you enjoyed this review make sure to check out our Pathfinder Adventure Path: Three Ring Adventure and our Tales from the Black Lodge Podcast.
No, we haven't forgotten about Starfinder here at Roll For Combat. We've been on a bit of a Second Edition Pathfinder kick lately, but Starfinder is still near and dear to our hearts and may make a comeback at some point when we can clone enough versions of Steve to run more than two or three shows at a time. In the meantime, we haven't forgotten that there are still new Starfinder rulebooks to review, and we'll be taking a look at the Starfinder Starship Operations Manual, which has crossed our desks.
I've had a bit of a love-hate relationship with starship combat in Starfinder if we're being perfectly honest. Certainly, starship combat is an iconic component of most science fiction – Scotty telling us how much more the Enterprise canna take, cap'n; the trench run from Star Wars; Vipers and Cylons duking it out in Battlestar Galactica, even more, rooted-in-reality ship combat like the fights in The Expanse. Other than maybe Doctor Who, where the TARDIS is not a traditional ship, ship combat is pretty much a staple of the genre.
Starfinder's first pass at implementing starship combat was a mixed bag. It was about two-thirds of a good idea and definitely showed some promise, but it also had some issues that needed to be worked out. First and foremost, roles were uneven – certain roles gave players lots of interesting choices; other roles were kind of dull. The other side of that coin was that certain classes/builds weren't very useful in ship combat – some player types had lots flexibility in the roles they could fill, other players (beefy fighter types) were mostly relegated to firing guns. Also, I noticed a lack of "disruptive" events in starship combat. One of the most fun moments of party-based combat tends to be when a boss busts out an ability you've never seen before and you have to adapt to that. There wasn't really an equivalent of that with starship combat — no ships dropping out of cloak, no anomaly forming off the port bow… you basically just hammered away with guns until someone couldn't go anymore. Mechanically, sometimes it almost felt more like the era of wooden sailing ships than sci-fi.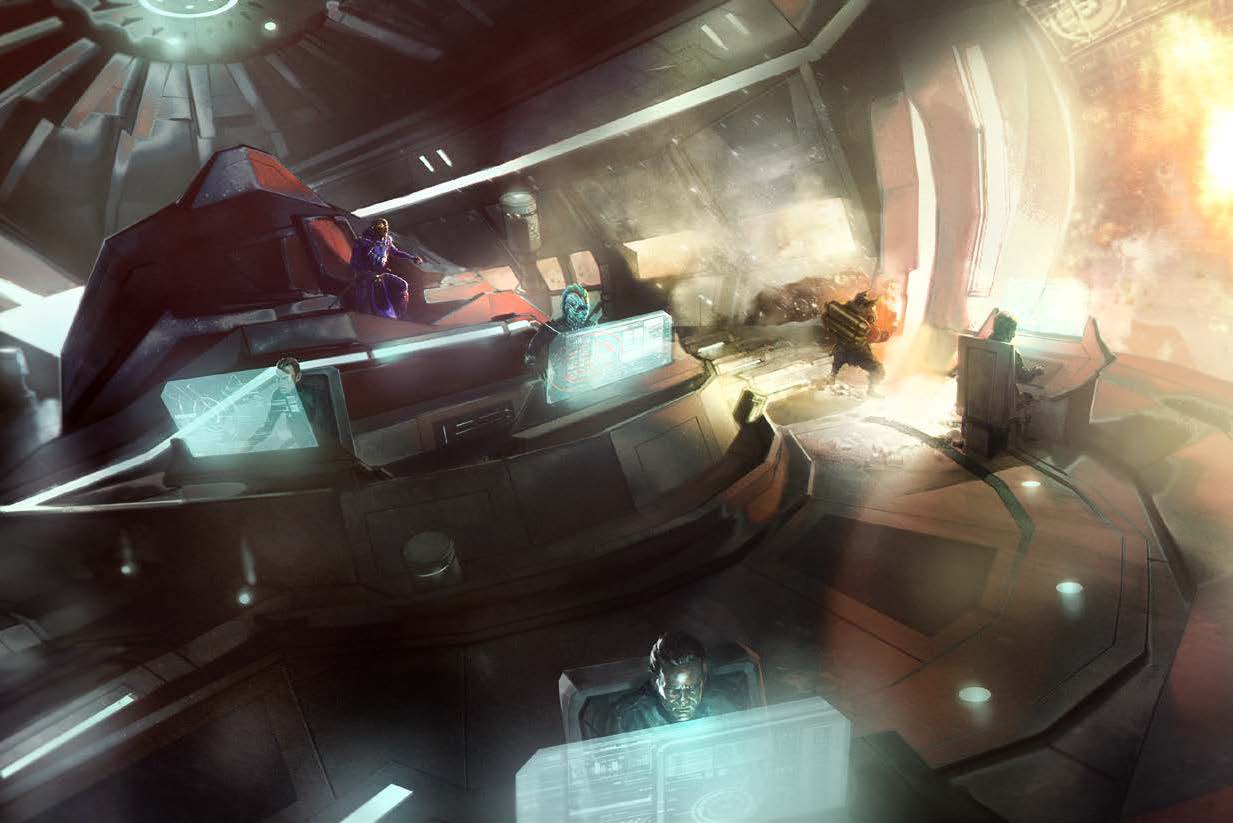 Now, the Character Operations Manual started to make some in-roads on this. They added two new roles – the Magic Officer and the Chief Mate – that emphasized different talents and created some new roles for people to fill, and they also introduced "open actions" as a sort of compromise – actions that weren't as effective as formally filing a station, but better than standing around doing nothing for a round. But now we get an entire rulebook where starship combat is THE focus, so let's take a look at what they did.
The first section emphasizes new ship upgrades, starting with weapons, armor, and propulsion systems. I'm not going to spend too much time on propulsion systems because it feels like those choices are more for storytelling flavor – in case the GM wants (or need) a way to get around that doesn't involve the Drift. Lots of punching holes through the planes to arrive somewhere much quicker. (Did nobody see Event Horizon? This doesn't end well!)
The weapons and armor were a little more interesting to me because you start to see an attempt to make combat more dynamic. It doesn't really change the core equation of lining up and plonking shots at each other, but the book adds new weapon types with different effects, so combat can be more tactical and give you more options for how to deal with a situation.
To give one example, there's the Buster weapon. It only does half damage when going against hull points, but is extra-effective against shields – when it depletes the shields on a quadrant, it does remaining damage to the adjacent sections. And if the defender tries to divert power to the shields on their next round, the DC of the Engineering check is more difficult. For another example, there's a gravity-based weapon that generates an artificial gravity well that doesn't do damage but saps the defender's speed. There are also "embrace the weird" weapons like a teleport weapon that moves the enemy ship in space, or a low-fi harpoon, which basically tethers the two ships together so the defender can't run away easily. They even have options for ramming weapons, just in case you want to play chicken with your enemies and see what happens.
The choices aren't as robust on the defensive side, but there are a few new introductions. First, there's ablative armor – why have shields when you can just have a stronger hull? Ablative armor serves as a source of additional Hull Points, but they come at the cost of maneuverability – your target lock goes down and your turning radius goes up the more ablative armor you add – and of course, they don't regenerate like shields. Deflector shields serve as an either/or replacement for conventional shielding: they serve a similar function to damage resistance in party-based combat, so they reduce each hit by a certain amount, and the rest goes directly against the hull. But they offset that by raising AC and TL, making it a little harder for the enemies to hit you in the first place. There are also options to fortify the hull or reinforce bulkheads, which provide a higher critical threshold or a chance to negate the critical entirely, respectively.
There's a brief section on starship materials – build your hull out of material X, you're more resistant to radiation, but the next section is the one that interests me most… the one that covers new starship systems. Because here's where we start to get into those "disruptive events" that will make combat a little more unpredictable. Consider the Ghost Drive – it lets you turn your ship insubstantial briefly, at the cost of a slower speed: the rubber-meets-the-road effect is that it allows you to move through a hex containing another ship without provoking an attack. Another interesting one is the Quantum Defender: if it's active when you're hit by an attack, the opponent has to roll the attack again and take the lower result. (Yep, you can potentially turn a hit into a miss… pretty cool.) They also have something called the Emergency Accelerator, which gives you a chance to avoid a fight entirely – your ship basically goes defenseless for a round because it has to draw power from the other systems to power the escape attempt; if you survive the round without taking critical damage, you engage the engines and move out of combat (officially 100 hexes).
But – maybe this is Tuttle speaking through me – arguably the coolest thing is the Consciousness Uplink Drive. It's what it sounds like: if your character has a datajack, you can directly interface with the ship. The good thing about this is you get a lot of pluses on tasks, and some things become minor actions because of the more immediate interface. The bad news… when the ship takes damage, so does your character. Now THAT'S cool.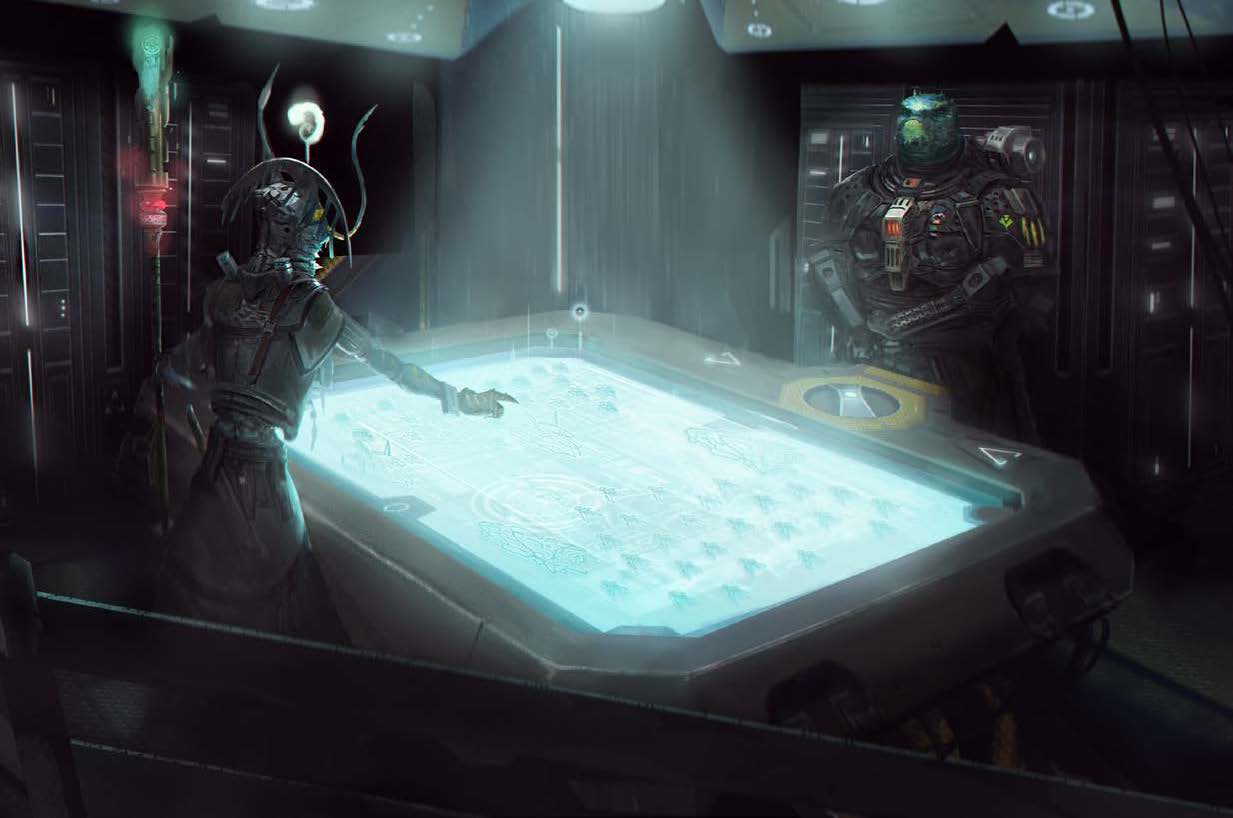 One more thing kinda sneaks in at the end of the upgrades section, but feels like an attempt to address the issue of different classes/builds being more useful than others: the Training Interface Module. Basically, it's a starship mod that you add that can let you use a class skill or feat in a starship combat situation. For a class example, Healing Touch lets an Engineer with healing spells use a spell to heal the ship (once per combat, and there's also a UPB cost). For a feat example, a gunner with the Deadly Aim feat can use it in starship combat: they get a -2 to hit but deal extra damage if they do hit.
The last couple of pages of the first chapter introduce the Supercolossal size category (think the ship from the finale of Dead Suns). It's unlikely a player group is ever going to own such a ship, but a) you never know, and b) they still need to exist for larger storytelling reasons.
The next major chapter deals with starship combat itself. I would broadly characterize this as follows: they haven't changed the core dynamic of starship combat, but a lot of the sub-topics in this chapter encourage GMs to reimagine how it fits into a story. At the end of the day, you're probably still going to line up and plonk away at each other for a while, but this chapter offers different ways of looking at why you're doing it – what are some other victory conditions than just reducing the opponent to zero hit points?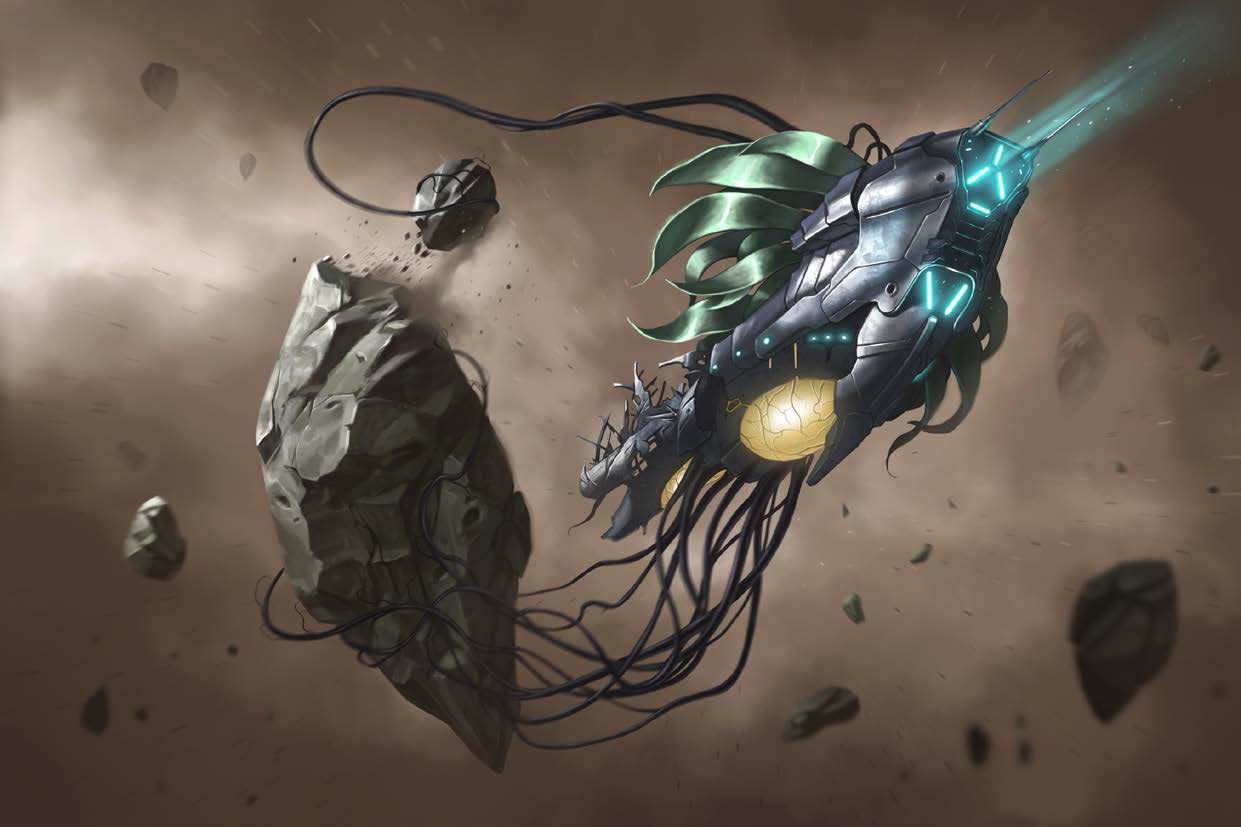 Think of some of the topics they cover here. First up is how to handle boarding parties – what if one side's goal is to take the other side's ship (or the people on board) instead of just destroying it? How should that be handled? Another example here is the set of rules for starship chases – what if one side's goal is just to get away and they don't even want to try and fight? It doesn't necessarily change the core combat mechanics, but it creates different victory conditions and allows the party to approach the problem a different way than just lining up for "ion cannons at 10 parsecs".
There are also a couple of sections that reframe starship combat for different styles of fights. Think of this as making the Starfinder system fit different classic sci-fi genres.
First, there's squadron combat – the Death Star fight from Star Wars will always be the gold standard for this one, though Vipers and Cylons squaring off in Battlestar Galactica isn't bad either. Instead of the players running one ship as a team, they're each controlling a small single-person vessel as part of a squad. This creates some additional rules to handle that, like how much damage the player character takes if they lose their dogfight and get shot down, a few new actions to make the team-based system functional for a one-person crew, and so on. They even have a system called the Unification Matrix where the individual squad ships can combine into a larger ship that lets you return to the more conventional team-based single ship combat. (I'll say it. VOLTRON. You can make freakin' Voltron. AND I'LL FORM THE HEAD!)
On the other side of the coin, instead of zooming into the scale of a single fighter, you can zoom out to the scale of armada combat, where your characters are supervising fleets of vessels, and moving battle groups around Ender's Game-style. This is a little more abstract – you're still filling the roles like Captain, Engineer, etc. but instead of performing those actions on your one ship, you're giving orders to the battle group under your control. And the attack rolls, instead of representing hull points on an individual ship, might represent how many vessels you lose in a given round.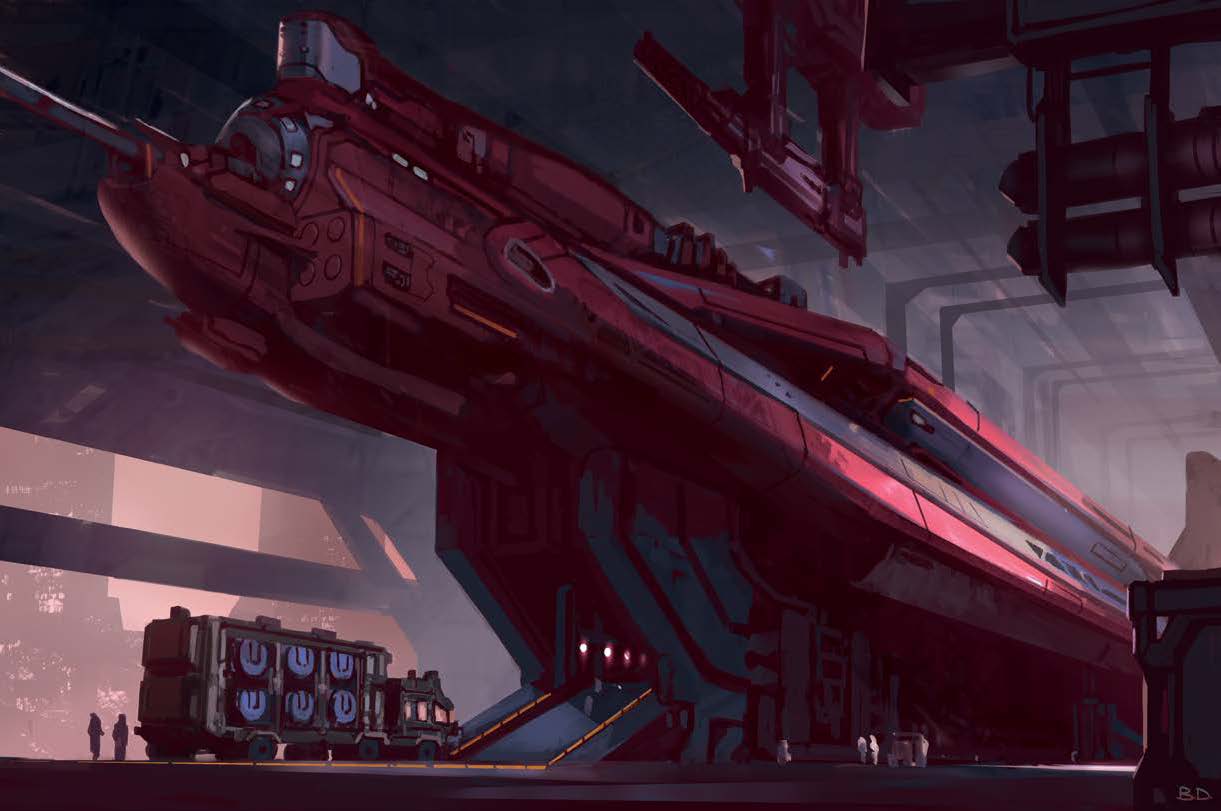 There are also a few more nuts-and-bolts sections that just fine-tune and fill gaps in the existing rules. One such section creates expanded options for critical successes. It always felt a little frustrating to have to those 20s go to waste – now you might get a slightly better result or some secondary benefit. Consider the Scan action: now a critical success on Scan reveals a vulnerability – the next time your shot gets through the shields and hits the hull points, it has a chance to crit, even if the damage doesn't pass the crit threshold. Another section deals with starships in planetary atmospheres – we usually assume we're just flying through deep space (ala most Star Trek shows) but what if you actually want to land or even go down into the atmosphere to get a closer look? What happens then? Well… now we have some rules for that.
The third main chapter – by far the largest by page count – is the section that introduces new starships. In terms of game mechanics, Paizo made sure to cover the entire spectrum of ship sizes and uses – from single-person racers to cargo haulers, warships, and massive supercolossal base ships. The ships are interesting and well-designed, but what I really appreciate here is the stealth world-building that you get from reading about different ships. Little details that flesh out the Pact Worlds and the folks that live in them. Like the Inheritorworks Javelin, a warship of the Knights of Golarion that keeps all its front weapons behind a ramming prow because running into other ships, boarding, and fighting hand-to-hand is pretty much their preferred battle tactic. Or the Sanjaval Redsun – a cargo ship that's mostly popular with ysoki because almost the entire ship is dedicated to cargo space and the crew quarters are too small for just about every other race. And then there's the Driftmaven… a supercolossal Level 20 ship that's a vessel of Triune run almost entirely by AI, and pretty much has no amenities for biological types. You get a featureless alcove and you'll like it. (On the other hand, its engine serves as a Drift beacon, so if you have the drive signature, you can always find it and travel to it, just like Absalom Station). Everyone's going to have their own personal favorites, so there's ironically not a lot to say, except that there's plenty of fun stuff to check out.
The final major chapter heading is "Running Starship Campaigns", and this is – to put it another way – GM Tips. The first half is fairly crunchy, and then it gets softer as it goes. The section kicks off with rules for creating starship creatures – very nuts-and-bolts – and even shows a few sample starship creatures to show you how it all fits together in a finished statblock. Next is a section on space hazards you could add to your battlefield to make combat a little more interesting – gravity wells, pockets of radiation, debris fields, and so on. But then it takes a softer turn, and the rest of the chapter is about how to work all of this into a campaign – a discussion on creating memorable villains, a section on alternate win conditions to think outside the pew-pew-pew box, and several pages of different sample story hooks. Some GMs will find these sections useful, others will probably "yeah-yeah-yeah" their way through it.
So that's the Starship Operations Manual in a slightly-expanded nutshell. It'll take playing with it in a game setting to be sure, but in general, I like what they've done here. It's kind of a two-pronged approach – certainly, Core Rulebook starship combat had some areas that were in need of a freshen-up, and the changes here seem like they address those. But another major focus of the book helps GMs reflect on the role starship combat plays in a campaign, encouraging GMs to think of it less as just another type of encounter and explore its possibilities as a storytelling device a little more deeply. And it's got all the wonderful world-building and artwork goodness Paizo always brings to the table. If you've got the room on the gaming bookshelf, I'd add this one to the collection. (And if not… you don't really need all those non-gaming books. That's what Netflix is for.)