PaizoCon 2019 Contest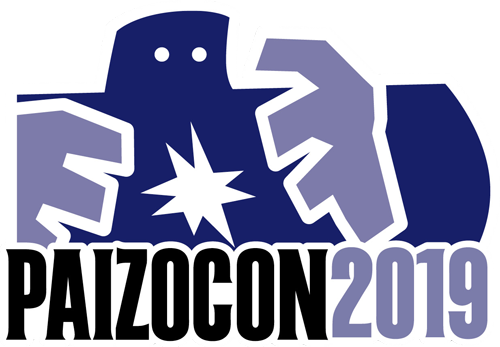 The time has finally come! You can enter the Roll For Combat PaizoCon 2019 Contest where you can win a free trip to PaizoCon 2019! AND get a chance to play an adventure in the universe of Grimmerspace, written by Richard Pett, run by RFC GM Stephen Glicker, created by co-author Sean Astin!
Simply listen to episodes 70-76, fill out and submit the form below, get all the answers correct and you will be eligible for entry! A random winner will be selected and announced on April 23rd, 2019 … don't wait, enter today and hang out with the Roll For Combat crew at PaizoCon 2019!
Make sure to check out the Contest Rules and Restrictions for all contest details.
The Fine Print a.k.a. – Rules and Restrictions
The Contest ("PaizoCon Contest") begins on March 19th, 2019 and ends on April 23rd, 2019. The Contest is sponsored by Roll For Combat ("Roll For Combat"). The rules are as follows:
Contestants must be at least eighteen (18) years or older.
Contestants must be a legal resident of their country of origin.
Prizes must be accepted by the winner within seven (7) days of winning or will be forfeited.
Any local, state, and federal taxes are the sole responsibility of the winner. Winner acknowledges that Roll For Combat shall have the right to publicize their name, likeness, and voice to promote their participation in the contest.
Roll For Combat reserves the right to change the contest rules at any time prior to selecting a winner.
Only one prize winner per household for each contest unless specified otherwise.
Roll For Combat contest prize award mechanisms vary from contest to contest.
STATEMENT OF OFFICIAL CONTEST RULES
ELIGIBILITY. THIS CONTEST IS VOID WHERE PROHIBITED. Entrants agree that this Contest shall be subject to and governed by and subject to the laws of New York and the forum for any dispute shall be in New York, Westchester County, United States of America. To the extent permitted by law, the right to
litigate, to seek injunctive relief or to make any other recourse to judicial or any other procedure in case of disputes or claims resulting from or on connection with this Contest are hereby excluded and any entrant expressly waives any and all such rights. Certain restrictions may apply. Contest open to all legal residents, who, as of the time of entry are eighteen (18) years or older, except Roll For Combat employees and members of the immediate family and those living in the same household are not eligible to enter. Contest void where prohibited by law.
NO PURCHASE NECESSARY. Enter at www.rollforcombat.com. Limit one entry per person (if applicable).
PRIZES: The following prizes will be awarded:

One (1) coach or lower round trip airline ticket from an airport near their residence leaving on May 25th, 2019 and returning May 29th, 2019 to and from Seattle-Tacoma International Airport, costing up to $600 for a round-trip ticket. Anything over $600 will be the responsibility of the contest winner to provide for airfare.
One (1) hotel room for PaizoCon at the DoubleTree by Hilton Hotels, 18740 International Blvd., Seattle, WA 98188
One (1) 4-Day PaizoCon Badge Ticket.
One (1) PaizoCon Banquet Ticket.
One (1) seat at the sneak preview game of Grimmerspace, space and time permitting.
Prize winners will receive a 1099 tax form for prize values greater than $600
County, Federal, State, and Local taxes (if applicable) on prizes are the sole responsibility of winners.

DRAWING: Winner will be selected from among all eligible entries received. The random drawing will be conducted under the direct supervision of Roll For Combat. Winner will be notified by email or phone within one (1) week of drawing. Odds of winning are determined by the total number of eligible entries received.
PRIZE CLAIM: Prizes must be accepted by the winner within seven (7) days of winning or will be forfeited. Noncompliance with the rules of the contest by a potential winner will result in disqualification and an alternate winner will be selected. Any prize notification returned as undeliverable will result in disqualification and an alternate winner will be selected. Claimed prizes will be awarded.
Prize must be accepted as awarded. The Prize may not be sold, transferred and is not convertible to cash. Contest Sponsors reserve the right to substitute the Prize in whole or in part in the event that all or any component of the Prize is unavailable. Prize winner is solely responsible for all costs not expressly described herein.
GENERAL: Each contestant grants Roll For Combat full permission and authority to use, re-use and license the use of their voice, name, photograph or likeness in any promotional activity related to their being a contest winner, except where prohibited by law. By entering this contest entrants accept and agree to be bound by these rules and the decisions of the judges, which are final, binding and conclusive on all matters relative to this Contest.
Roll For Combat reserves the right to disqualify entrants who fail to follow these official rules and regulations or who make any misrepresentations relative to the Contest, drawing and redemption of prizes. Winners may not substitute or transfer prizes. The winners list will be posted online and announced on the Roll For Combat podcast.
Roll For Combat reserves the right to substitute prize of equal or greater value should featured prizes become unavailable. Roll For Combat and its parents, subsidiaries, affiliates and agents are not responsible for any negligence, claims, liability, injury or property loss or other damages of contest entrants arising from, or in connection with the prizes awarded or participation in this Contest. All federal, state and local laws and regulations apply.
Release. Winner agrees to release and hold harmless sponsor and its subsidiaries, affiliates, suppliers, distributors, advertising/promotion agencies and each such company's officers, directors, employees and agents (collectively, the "Released Parties") from and against any claim or cause of action, including, but not limited to, personal injury, death, or damage to or loss of property, arising out of participation in the promotion or receipt or use or misuse of any prize or participation in any promotion-related activity and for any claims based on publicity rights, defamation or invasion of privacy and merchandise delivery.
These rules and this promotion are governed by the laws of the state of New York without regard to applicable choice of law provisions. Exclusive venue for any legal action in connection with this promotion shall be located in Westchester County, White Plains, New York.